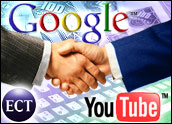 Google is introducing ad-supported video clips from YouTube — what it calls "video units" — to its AdSense advertising platform, one of many steps in a strategy designed to glean a return on its massive investment in the video-sharing Web site.
Google is working with select YouTube content partners, including TV Guide Broadband, Expert Village, Mondo Media, Lonelygirl15, Extreme Elements and Ford Models to develop the video offerings.
As with ads on YouTube, an AdSense video unit will run only after a user has clicked on a video play button. The ad then displays as a banner at the top of the video and as companion text on the bottom.
The videos will be distributed on AdSense based on their content and that of the publisher's Web site. Advertisers are charged on a cost-per-click or cost-per-impression basis. AdSense publishers and YouTube content partners will receive a share of the ad revenue.
Natural Progression
Google's move is a natural progression for the online advertising industry as bandwidth continues to expand, Patrick McKenna, CEO of DMi Partners, told the E-Commerce Times.
"We have gone from banner ads to rich media advertising to expandable rich media advertising — and now, to video," he noted. From that perspective, the addition of video to the advertisers' tool set is not particularly groundbreaking — save for the fact that it is Google that is leveraging its resources in this way.
Still, there are many different models that the online advertising industry could adopt in this relatively new space.
"What will be interesting is how and when Google takes the next steps of layering its many tools — such as with the bidding technology or the way it determines which ads are suitable for which Web sites — into one offering. That, plus building out an advertising inventory, will really add some girth to this medium," McKenna commented.
Happy Audience
How Google places the video ads will be just as important as its decision to offer them in the first place, observed Michael Boland, senior analyst with the Kelsey Group.
"Placing these adds on AdSense will provide much greater scale — and probably revenues — to the advertisers than by just limiting it to the YouTube platform," he told the E-Commerce Times.
Google is slowing trying to monetize its massive YouTube holding without alienating the site's audience, according to Boland.
"One way to do that," he suggested, "is by offering the ads throughout the network. I think this will be one of many announcements or integrations Google will make as it tries to realize an ROI on YouTube."