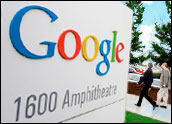 Google has launched a mobile version of its AdSense program in several major markets, the latest in a series of high-profile movesthat underscore the mounting interest in delivering marketing messages to mobile phones and other devices.
Google has been offering a version of its AdWords search marketing program for mobile placement since last year. This week, it formallyintroduced AdSense, which serves up contextually relevant ads on content sites, in some markets.
The move means any Web site accessible by a mobile Web browser will be able to become part of Google's ad network. Previously, only search queries directed at Google or third-party sites it provides search technology to could generate mobile ads.
Clickable Text Ads
The program involves having Web-based advertising converted into brief text ads that can be viewed alongside content on mobile devices. The ads will offer users the chance to click through to learn more, with the publishers of the Web content earning a per-click payment.
Google launched AdSense for Mobile in several markets, including the U.S., Germany, England, China, Japan, India and Russia.
Alex Kenin, the AdSense Product Marketing Manager, said the move will enable existing publisher partners in the AdSense program to "startmonetizing" mobile-friendly sites "by accessing a growing number of our mobile advertisers." It may also prompt those who have not yetdeveloped mobile Web content to do so.
"When you add the new AdSense for mobile code to your site, we'll display relevant ads using the same targeting technology" used on theWeb, Kenin said in a post to the official Google blog. That includes targeting ads contextually, based on the content displayed on thesites the mobile user is visiting.
Gphone Home
The mobile push comes amid rampant speculation that Google is working on software and other technology that would enable it to offer its ownmobile phone. Dubbed the "Gphone," the device's existence has been widely downplayed from inside the Googleplex.
Still, there's little doubt that Google is eager to extend its Web search and contextual advertising dominance to the next logical step,the mobile devices often referred to as the third screen — after the TV and the personal computer.
In addition to the Gphone rumors, Google has said it might be interested in paying at least US$4.6 billion for the right to acquiresome of the high-end wireless spectrum to be auctioned off by the Federal Communications Commission early next year.
Interest Increasing
Overall interest in mobile ads is running high amid predictions it is set to take off in coming years thanks to advances in phone designsand carrier networks.
On Monday, handset maker Nokia said it was buying mobile ad firm Enpocket, which designs campaigns and offers a platform fordistributing marketing messages. Other recent deals in the space include AOL's purchase in May of Third Screen Media and WPP Group'sacquisition of mobile ad player JumpTap.
Work remains to be done, however, to ensure that user-friendly marketing experiences are possible on mobile devices, Sterling MarketIntelligence analyst Greg Sterling told the E-Commerce Times.
"When those pieces are in place, monetization will naturally follow," Sterling added. "AdSense for mobile is Google's bid for mobile adsyndication on third party mobile content sites."
Testing the Waters
With mobile Web use still relatively low in key markets such as the U.S., now is a "great time for advertisers and media companies to beexperimenting and learning what does and doesn't work," said JupiterResearch analyst Julie Ask.
Advertisers aren't yet knocking down the door to advertise on mobile devices or be at the forefront of the mobile search movement, soGoogle may also be trying to prove the value of such placement by first rolling out AdWords and now AdSense in the mobile arena.
"This is the early stages, and improvements and enhancements will be coming," Ask added.