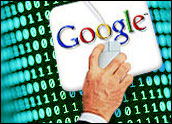 Google said Monday it will be expanding tests of its video advertising system by delivering music video clips from Warner Music Group and Sony BMG Music Entertainment along with advertising over its AdSense online advertising service.
As part of a trial during the next four weeks, Web sites that use AdSense will be able to select a playlist of songs for display on their sites, Christian Oestlien, a Google product manager, wrote on the Mountain View, Calif., company's AdSense blog. The music videos — which will be from Sony and Warner along with a small group of other publishers — will be accompanied by advertising.
Take Two
In August, Google announced a similar trial with Viacom's MTV Networks through which it distributed MTV video clips and shows along with video ads to targeted Web sites.
"This time, we'll be working with a larger set of content providers, grouping together video content from providers such as Warner Music Group and Sony BMG Music Entertainment together with quality ads and offering them as playlists which publishers can select from and display on their AdSense sites," Oestlien said. "Participating publishers range from small to large, and cut across many different types of content."
Revenue from the tests will be split three ways, added Google spokesperson Brandon McCormick, between the content owner, the publisher and Google. He declined to disclose the exact revenue share, but said that ads will be billed on a cost-per-thousand-impressions model.
The move may signal an evolution in the availability of video content.
Tapping New Budgets
"What this does is it starts to uncouple video content from any particular Web destination," Andrew Frank, research director at Gartner Group, told the E-Commerce Times.
"Instead of having a model where consumers go to the Web site of the media company, such as Warner, this allows publishers all over the Internet to distribute videos," he added. "Google and content owners still have a say over which sites can carry them, and content owners can get much a wider reach than they would if they were to just carry them on their own sites. It's an attractive option."
Meanwhile, Google gains entry into the potentially rewarding realm of video advertising. "It's good news for Google because it gets them out of the model of just being a text ad provider, and into what could be much more lucrative for them," Frank explained.
"TV ads still account for a much greater share of advertising than Internet ads do. If Google can start to tap into those budgets, there could be a real financial upside for them," he concluded.
Following the announcement, shares of Google fell 1.8 percent on Monday to close at US$480.84 on Nasdaq.