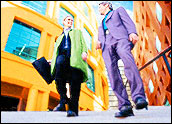 Google andNielsen have formed a relationship designed to help advertisers create targeted ads for viewers and track how and where their advertising dollars are delivering a return. Under the agreement, Google will provide Nielsen's demographic data through its Google TV Ads advertising platform.
Google TV Ads is part of the search giant's foray into traditional media. Operational since May, the online platform for buying and selling TV ads provides users with information that reveals how their ads are performing. What Nielsen will bring to the mix is data from its representative television ratings panels about the demographic composition of the audience. Advertisers will be able to log onto the Google AdWords report center to access that information.
The two companies are exploring a number of other opportunities to work together to measure online and other media, according to Nielsen Chairman and CEO David Calhoun, who expects their relationship to "expand significantly in the months ahead." Additional details of the agreement were not disclosed.
Embracing Your Enemy
It is somewhat surprising that Nielsen chose to partner with Google on its TV ad platform.
"It is possible that Google could prove to be a competitor to Nielsen in the long run, given its analytical capabilities and the fact that it is moving to TV as well," Greg Sterling, principal with Sterling Market Intelligence, told the E-Commerce Times. "It will be interesting to see which other areas the two companies will collaborate in."
As for Google, the deal makes perfect sense, given the intense interest advertisers have in audience demographics.
"As we continue to expand our TV advertising program, it is important that we provide advertisers and agencies with data that will help them reach their target demographic with the right ad," said Eric Schmidt, CEO of Google. "Working closely with Nielsen, the industry leader, improves our measurement capabilities by adding a demographic layer on top of existing set-top box data."
Monetizing Video
In the short term, this new alliance should be viewed as just another strategy Google is trying out to maximize monetization of its multimedia advertising platform, said Roger Kay, principal of Endpoint Technologies.
"Google is king of search, of course," he told the E-Commerce Times, adding that its anticipated acquisition of DoubleClick will likely cement its hold on display ad traffic.
The next logical steps for the company to take, he continued, are in the TV and video realms. "You can expect to see Google try out different strategies and approaches over the next while to see which works best."