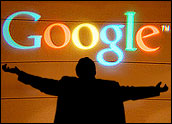 One quarter after delivering a rare earnings miss, Google promptly returned to form Thursday, trouncing analyst expectations with strong revenue and earnings growth for its third quarter.
Google said profit rose 46 percent to US$1.07 billion on a 57 percent rise in sales to $4.23 billion. It was the 13th consecutive quarter since going public in August of 2004 that Google posted revenue growth of more than 50 percent.
The results seemed to justify the optimism that has pushed Google shares to dizzying heights in recent weeks. Google stock is up nearly 20 percent in the past month and soared past the $600 level three weeks ago.
In early trading Friday, Google shares rose another $9, or 1.4 percent, to $648.53.
"Looking back at the quarter, it's obvious our model continues to work very well," CEO Eric Schmidt said during a conference call. "It's all very exciting from the Google perspective."
Google continues to grow like a startup in other ways. The company disclosed that it added some 2,130 employees to its headcount in the quarter, a record hiring pace for the search giant. About 300 came with its buy of e-mail firm Postini, and 1,000 of the new hires were recent college graduates. Google ended the third quarter with a workforce numbering 15,916.
In the past, such declarations have unnerved some investors, raising fears that Google would grow too fast, or that it would be forced to spend its profits in order to keep up with its worldwide growth.
Leader of the Pack
Unlike past quarters, when Google often posted strong results while rivals struggled, the Internet sector as a whole has pleased investors this time around, with a slew of positive earnings reports. eBay said its results would have beat the street if not for a write-down on Skype, and perennial whipping boy Yahoo managed to impress analysts with a strong quarter as well.
Still, Google's results stand out — in part, because the search company has managed to post strong growth rates even in the face of more difficult comparisons. It continues to gain on its rivals as well. Google Web searches rose 40 percent year-over-year, with the company handling about 54 percent of all search queries in the U.S., according to data from Nielsen//NetRatings.
AdSense revenue was up 8 percent over the second quarter and 40 percent over the third quarter of 2006, noted Chief Financial Officer George Reyes, who recently announced his intention to retire from Google.
International growth was also robust, with overseas sales rising 60 percent to $2 billion — or 48 percent of total revenue. Google also made progress on reducing traffic acquisition costs, the fees paid to partners who drive traffic to Google. At $1.2 billion for the quarter, they amounted to 29 percent of total advertising revenue — down from 30 percent in the second quarter.
However, Reyes said Google "may see pressure" on acquisition costs going forward.
Google executives highlighted numerous new initatives — from running video ads on YouTube to becoming a key part of the mobile movement — and those efforts will be key to sustaining its early growth over the long term, said Gartner analyst David Smith.
"Yahoo has stabilized, and Microsoft is laying the groundwork to become more of a player in online advertising," Smith told the E-Commerce Times. "Microsoft sees Internet advertising as a way to replace software licensing revenue, and Google sees the mobile platform and video ads replacing its current core business."
No News Good News?
Executives did not shed much new light on efforts to convince European and U.S. regulators to approve Google's DoubleClick acquisition.
"We are following all of the appropriate steps that are needed to get worldwide approval, and we are certainly optimistic," Schmidt said, though he stopped short of laying out a timeline. "We believe it will ultimately result in a very good outcome for us."
The company did predict the deal could close early in 2008. Fortunately for Google, even additional delays will likely not impact its earnings or its ability to continue growing its revenue rapidly, Sterling Market Intelligence Principal Analyst Greg Sterling told the E-Commerce Times.
"The deal is obviously getting a very close look in both the U.S. and Europe, but given that the Microsoft and Yahoo purchases in the same space were approved very quickly, it would be surprising if the deal were blocked or if onerous conditions were placed on it," he said.
In the meantime, Google has launched so many new endeavors that even if only some of them were successful at extending Google's advertising brand to new platforms — television, newspapers, radio and mobile devices — the company could have years of robust growth ahead.
"Google has credibility with major advertisers that will translate beyond the Internet," Sterling commented.
Google executives declined to directly address questions about the possible launch of a Google mobile phone, or Gphone, as rumors have it. However, the company announced Thursday that it will hold an analyst day on Oct. 24, instantly sparking speculation of a mobile device debut.