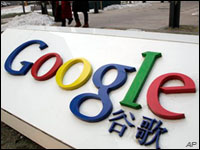 Google will no longer redirect mainland China Internet users to its Hong Kong site at Google.com.hk. Instead, it will display a link to the uncensored Hong Kong site on itsGoogle.cn landing page.
The Hong Kong page also gives mainland users access to such services as music and text translation.
The reason for the action is that China appears ready to reject the search giant's application to renew its license to provide Internet content in China, explained David Drummond, SVP of corporate development, in a blog post. Its Internet Content Provider license is up for renewal on June 30.
The hope is that cessation of redirect activity will appease the government so that Google won't have to completely shut down its website in the country.
"This approach ensures we stay true to our commitment not to censor our results on Google.cn and gives users access to all of our services from one page," Drummond wrote.
End to Censorship
Google stunned the world earlier this year when it suddenly announced it would no longer censor its search results in China. Unable to come to an agreement with the government on the matter, it eventually ceased its search operations there, redirecting mainland users to its Hong Kong page.
From a practical standpoint, that did little for mainland users: While they were able to pull up links to sites or search results forbidden in China, China's censors still blocked them from connecting to those sites.
Whether an entirely new Google search landing page will satisfy China's regulators remains to be seen.
Google is "hopeful" its license will be renewed, said Drummond; it believes the new approach is consistent with local law.
Some see Google's move as a capitulation to the inevitable, despite the bravado it evinced earlier this year.
"I think Google has realized that if it wants to stay in the China market it will have to cooperate with the government," Rob Enderle, a principal with the Enderle Group, told the E-Commerce Times.
"Microsoft went through the same phase in other parts of the world," he noted. "It thought it was big enough to take on the government."
Inevitably, said Enderle, these companies all come to the realization that no matter how big they are, the government is always more powerful.
Sidestepping the Issue
From a different perspective, Google is not appeasing the government with the rerouting of traffic — it's merely doing its best to sidestep it.
"I think they are hoping China will not press it if they offer up this compromise," said Usha Haley, co-author of The Chinese Tao of Business.
"This is Google trying to make the best of the situation but still not backing down on the censorship issue," she observed.
The real test will come — if it comes — when the government says the compromise is not enough, added Haley.
Understandably, Google wants to keep a toehold, she said, noting that "the Internet market has a huge potential in China."