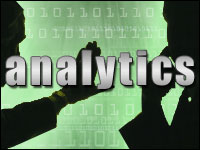 Google announced Friday a new set of reports in beta, Mobile App Analytics. Their purpose is to help marketers and developers measure the performance of mobile apps by providing reports on all the key points in a mobile customer's journey.
Google has broken out those key points into three sets of app metrics. One set deals with the initial app user acquisition, which includes app discovery, uploads and user location. The second set addresses how users engage with the apps in terms of time spent and flow of user activity in the app. The third focuses on how users take certain a desired action like buying or calling.
Specifically, the reports will provide information on downloads, new users, retention, crashes and conversions, app sales and in-app purchases. The latter looks at both the number of purchases and the revenue generated.
In order for marketers to truly measure their app effectively, they need to examine the entire life cycle of the app, from acquisition to engagement to outcomes, JiaJing Wang, product manager with Google Analytics, told the E-Commerce Times.
"More importantly, it's crucial to see these areas in concert with one another, like how certain acquisition channels lead to better user engagement and ultimately more goal conversions," Wang continued. "Our goal with the new Mobile App Analytics reports is to help marketers and developers measure the end-to-end value of their mobile app, to ultimately help them build richer, more engaging experiences for their users."
Google is opening the beta up to whitelisted users in waves. The reports will be available to all Google Analytics users by the end of the summer.
SDK v2.0
Google has taken a number of steps to facilitate the use of its mobile app analytics — steps that illustrate how seriously the search engine giant views mobile.
Google is launching an updated software developer kit, SDK v2.0, that has a lighter footprint better suited to mobile. It is also opt-out ready and has a streamlined back-end infrastructure.
Google has also revamped its sign-up process, making it easier for users to choose if they want to start measuring their website or their mobile app.
The Nonstop Growth of Mobile Traffic
Indeed, there is no dearth of statistical evidence that chronicles the growth of mobile compared to the desktop. Eighty-eight percent of website visits now come from PCs, according to a new report from Monetate. That's down from 92.1 percent in the prior quarter. Meanwhile, traffic from tablets increased 348 percent in one year, while visits from smartphone users increased 117 percent during the same time period.
"Current Google Analytics is primarily about website analytics," Azita Arvani, principal of the Arvani Group, told the E-Commerce Times.
What Google is trying to do is leverage the expertise it has accumulated and extensive groundwork it has done in the website analytics space and tailor it for mobile apps, she continued.
This shouldn't be a problem for Google even though, arguably, it is late to the party, Greg Sterling, principal of Sterling Market Intelligence, told the E-Commerce Times.
"There are a number of established providers in the mobile app analytics space, starting with Flurry," he said. However Google has so much scale, Sterling added, that it will become a formidable competitor almost immediately.
"With Google's integrated approach towards analytics, especially on Google Play, other players will find it difficult to match Google's Mobile App Analytics' value proposition," Shivesh Vishwanathan, senior architect at Persistent Systems, told the E-Commerce Times.
What remains to be seen, Vishwanathan continued, is how fast the app analytics being captured can be modified by a marketer.
"As a Web marketer, it was a matter of changing some parameters to track a new set of goals," he said. "With apps, doing that with the content being served from the server will be easier. How flexible the rest of the analytics tracking the app features will be is something that remains to be seen once marketers get a chance to play with the Analytics App."
An Android Bias
Mobile App Analytics is available for both Android and iOS apps, but there are certain biases towards Android developers, Arvani noted.
"For example, for apps on Google Play, there will be more information about sources of traffic," she said. "There will also be an Android app for Google Analytics, with potential plans for doing an iOS app."
This approach — that is, putting restrictions or shortcomings for non-Android platforms — will diminish the value of Mobile App Analytics in the long term, Arvani cautioned.
"Each Google tool should act fully across all platforms. Giving advantage to Google's other properties is a page out of Microsoft's playbook that may backfire at the end," she said.
Not that Apple has been a mobile app developer's dream.
"Apple made it very easy for developers to get their apps out in the market with the App Store, but so far, the apps were a black box once they were out of the door," Vishwanathan noted.
Google's new mobile app analytics tool will give marketers and developers a real sense of how their apps are being used, he added.
Mobile App Analytics will provide a boost to in-app purchases, as seasoned marketers will be able to fine-tune the app user interface and take informed decisions toward improving conversions and purchases, he said. Also, "as mobile advertising picks up, analytics will be key to tracking their performance and ROI."