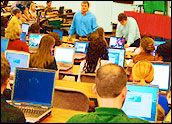 The National Federation of the Blind has filed a civil rights violation complaint with the Department of Justice, asking it to investigate the adoption of Google Apps by New York University and Northwestern University, as well as some schools in the state of Oregon.
The use of Google Apps in an educational setting is discriminatory to the blind, the federation alleges, because it is not fully compatible with assistive or screen-access technology — that is, applications that aid the sight-impaired, such as translating written words into speech or Braille.
The federation claims that the universities' use of Google Apps is a violation of the Americans with Disabilities Act and the Rehabilitation Act of 1973.
Push Into Education
The federation moved forward with its complaint after Northwestern and Google announced last month that Northwestern had decided to adopt Google Apps for Education to provide cloud-based email and collaboration tools to its university community.
The complaint cites two other recent developments that NFB considers discriminatory: Last November, NYU announced it would be adopting Google Apps for Education, after evaluating two vendors' products; in the Spring of 2010, the state of Oregon entered into an agreement with Google on behalf of school districts in the state allowing individual school districts to adopt Google Apps.
Google's push into the education realm is worrisome to the federation, Chris Danielsen, director of public relations, told the E-Commerce Times.
"This is a simple matter of equity — it is one thing when a blind person can't use an app for entertainment, but in an educational setting, you will have situations where a professor is requiring students to collaborate on a project, which may involve working in, say, Google Docs. It's not fair to the blind."
More educational institutions have begun using Google's suite of applications, which is why the federation decided to act, he added.
Doesn't Provide Good Access
Google met with Marc Maurer, presient of the National Federation of the Blind, last week, according to Alan Eustace, Google senior vice president, engineering and research.
Google left the meeting "with a strong commitment to improving our products," he said.
From the federation's perspective, Google has much ground to cover, as there are significant challenges for the blind when using Google's technology.
"Generally speaking, the blind access computers by using screen-access technology," Danielsen said — "software that blind people purchase separately from the computer that renders everything on the screen as either synthesized speech — or as Braille output if they have a Braille display that can be hooked up to a computer."
For this software to translate certain elements in an application — a drop-down menu for example — there needs to be related coding that gives this information to the screen-access program.
"So you may have a situation where there is a drop-down menu from which the user is supposed to choose an option, but the screen reader can't identify it as a drop-down menu," explained Danielsen. "Or there may be field asking for personal information like a name, but the screen-access technology can't identify it, because it hasn't been labeled in such a way."
This is not rocket science, he added. "There are education companies that do a good job with accessibility for the blind, such as Blackboard.
"Apple has a good record with accessibility too. When you buy an Apple product, all of the apps that come with it are accessible," Danielsen pointed out — although that does not hold true for all of the apps in the iTunes App Store.