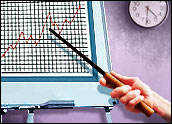 Nanosys yesterday announced that Peter S. Garcia has joined the company as chief financial officer.
The action comes less than a week after the company pulled its plans for a $100 million initial public stock offering due to what the company called "the volatility of the public capital markets."
Calvin Chow, Nanosys CEO and co-founder, said, "Pete's demonstrated accomplishments across multiple industries from computing to biotechnology make him ideal for addressing the diverse and numerous opportunities that Nanosys is presented with."
Loss Reported
Garcia said, "I am excited and energized at the opportunity to be joining a company with the potential to develop products that revolutionize the way companies do business. Nanosys' technology, intellectual property and scientific and business leadership provide a compelling competitive advantage in the field of nanotechnology."
In its IPO, Nanosys had planned to issue more than 6 million shares at a price between $15 and $17 each. In filing its IPO papers with the Securities and Exchange Commission, the company reported a loss of $8.8 million on $2.5 million in revenue during the first six months of 2004, and a loss of $9.2 million on $3 million in revenue for all of 2003.
Garcia brings extensive executive expertise to Nanosys, with more than 19 years experience in various financial roles at both start-up and public biotechnology and high technology companies.
Previous Positions
Prior to Nanosys, Garcia was senior vice president and chief financial officer of Nuvelo, a biopharmaceutical company. During his tenure there, he helped raise more than $150 million, acquired development stage products and led the merger and acquisition strategy.
Prior to Nuvelo, Garcia served as chief financial officer for Novacept, IntraBiotics Pharmaceuticals and Dendreon. He was instrumental in raising more than $500 million for these companies.
His prior financial operations experience comes from Amgen and Teradata, where he held a variety of financial management positions. Garcia has an M.B.A. from the Anderson School at University of California Los Angeles and a B.A. in economics and sociology from Stanford University.
Nanosys develops nanotechnology-based products using inorganic nanostructures. The company has built one of the broadest technology platforms in the industry with more than 250 patents and patent applications covering fundamental areas of nanotechnology.
Based in Palo Alto, California, Nanosys develops revolutionary, high-performance products for computing, optoelectronics, communications, energy, defense and the life and physical sciences.