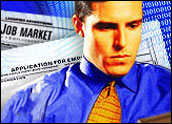 Gannett has increased its stake in CareerBuilder, acquiring another 10 percent of the Web site from the Tribune Company for US$135 million.
Gannett now has a 50.8 percent controlling interest in the site. Other stakeholders are the Tribune, now with 30.8 percent, The McClatchy Company, with 14.4 percent, and Microsoft, with 4 percent.
Gannett now has three seats on the six-seat CareerBuilder board of directors. Tribune and McClatchy have one seat each, and the chief executive officer of CareerBuilder has one seat.
It is obvious why Tribune, which was taken private last year in a $8.2 billion buyout, divested itself of this asset: With nearly $13 billion in debt, the company must give up stakes in several business endeavors to lighten its load.
Gannett is not immune from the woes afflicting most newspapers in the U.S. — namely, declining revenues and circulation. Whether it can leverage its growing stake in CareerBuilder to counter these downward trends remains to be seen.
Many Paths
Just about every major newspaper has an online presence now, as well as bloggers producing content strictly for the Web. The transition, though, has been a clumsy and piecemeal process for many media outlets, especially since the subscription model failed to catch on among online readers used to getting content for free.
"It has been hard for mainstream media to develop an organic online strategy," observed Kel Kelly, founder and CEO of Kel & Partners.
Besides making the necessary culture shift, she told the E-Commerce Times, they had to experiment with new models that had no clear path to revenue.
The biggest media gamble on an online property was, of course, News Corp's acquisition of MySpace in 2005. Depending on whom you asked, it was either a savvy or blindly optimistic acquisition. MySpace's online creds were rising at the time, but then as now, it was unclear how it could be effectively monetized. Google later provided the answer when it agreed to pay $900 million for the long-term rights to deliver advertising to the site. There are still challenges, though. MySpace's audience is evolving, and it has many competitors.
While MySpace is hardly the only model for media outlets seeking to expand their online operations beyond news reporting, it does represent a threshold of sorts, with the acceptance of ad-based strategies.
Redefining Content
Now, media outlets are pursuing properties like CareerBuilder in order to position themselves as content syndicators, Newsgator VP Jeff Nolan told the E-Commerce Times.
"This is a game-changer for a lot of media organizations," he said. "What Gannett wants to do is build its own consortium of papers through which it can syndicate content, much like what Yahoo is doing with Hot Jobs" — that is, syndicating the job information to 400-plus media sites.
"Newspapers get the whole digital world — they understand very acutely what is happening to them," Nolan continued. "They are now in a free content model, and their advertising base is becoming more performance-oriented."