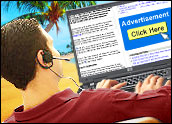 In a move that further crowds an already over-served market, four newspaper giants — New York Times, Hearst, Gannett and Tribune — have created a new online advertising partnership. Their new venture, QuadrantOne, will be headquartered in Chicago.
Its interim CEO is Dana Hayes, Jr., who was named senior vice president of sales at Tribune Interactive in 2006.
In his previous post, Hayes oversaw the strategic coordination of the company's national and local sales and sales strategy. He also helped lead development of new interactive advertising products on the firm's network of more than 50 Web sites.
Think National, Act Local
QuadrantOne was set up to let national advertisers buy local online ads more efficiently.
A total of 120 newspapers with a combined reach of 50 million users in 27 of the top 30 markets will participate in QuadrantOne.
However, the flagship papers of the New York Times Group (The New York Times) and Gannett (USA Today) are not included because they are not considered local papers.
"The intention of QuadrantOne is to make it easy for advertisers to buy local traffic across the network," Greg Sterling, founding principal at Sterling Market Intelligence, told the E-Commerce Times.
Why Local Ads?
One of the problems with online ads is that they can be geotargeted, which means they targeted to a specific geographical area such as, say, the Bay Area; but advertisers cannot control which sites the ads appear on.
"Much of the advertising is blind, and therefore not appealing to brands," Sterling said. "Your ad could, for example, be on the San Francisco Chronicle's Web site or on a no-name site which you might otherwise be disinclined to advertise in."
However, advertisers like the geotargeting capability, so their response to online ads is ambivalent.
QuadrantOne's Edge
By offering advertisers access to premium inventory, traffic quality and control over where their ads appear, QuadrantOne aims to change that. Advertisers will have a chance to select the sites their ads appear on.
Also, and more to the point, perhaps, QuadrantOne might get a lot of support because it will give the newspapers control and ownership over online ads.
Several newspapers, including Hearst, have had a consortium for online advertising with Yahoo, but this was not satisfactory.
"There was always the perception that this benefited Yahoo more than it did them," Sterling said. "And the execution challenges inherent in one company's having to work with so many fragmented markets were daunting, the scale was daunting and a lot of ideas failed to be realized."
QuadrantOne aims to change that.
The Opposition
Several companies already take and place online ads from newspapers.
There are the obvious ones — Yahoo, Google, AOL, AdSense, Advertising.com, ValueClick and Tribal Fusion, to name a few.
Then there are the companies that QuadrantOne will have to take head-on: Real Cities, MediaSpan, WorldNow, Internet Broadcasting, and Centro.
Centro actually works as a broker, buying space in various media — print, broadcast and electronic — for its advertisers, and claims that it controls about half of locally targeted display advertising online.
Chances of Success
New Century Networks tried to offer the same service — a single point of contact to newspapers advertising online — and failed; and competitors Real Cities and the Newspaper National Network have had mixed success, Sterling said. So far, only Centro, which aggregates ads and then sells them into local markets, has been successful, according to Sterling.
Also, QuadrantOne will be below 34 other online ad networks in terms of reach, Sterling said. However, it "will argue that they offer premium inventory, not remnant inventory; users will reach 27 of the top 30 markets; and their ads are transparent," he added.
The reaction to the announcement was mixed.
Centro will be able to hold its own but Real Cities will be in trouble if QuadrantOne takes off, Sterling believes. "I think Real Cities is the one immediately in danger," he said, predicting that there will be "a Darwinian struggle for as long as 18 months and there'll be a shakeout" in the online ad placement industry.
Competition Welcomed
Newspaper National Network's president and CEO, Jason E. Klein, was sanguine about QuadrantOne's debut.
"We're 85 percent owned by the top 24 newspaper companies in America, and this is just four of them," he told the E-Commerce Times. "To the extent that they have inventory on their platform we'll use it."
The only difference between QuadrantOne and the NNN is that "they have dedicated inventory whereas we assemble the inventory as needed," Klein said. However, NNN's owners "are in all the partnerships and do business with everyone — Real Cities, Centro — and we're very client focused so we'll do whatever makes sense from a client standpoint," he added.
Dust in the Wind
Not everyone thinks QuadrantOne will solve the problem of print media, which is to place online ads as focused and targeted as print ads are. "I don't think an alliance like this, even though sizable, will provide these newspapers what they need, which is technology expertise and a specialization in online ad serving, measurement, sales and distribution," Forrester Research analyst Shar VanBoskirk told the E-Commerce Times.
He thinks technology companies will be the media firms of the future and that content firms "may gradually exit the ad sales business and focus instead on creating and syndicating content."