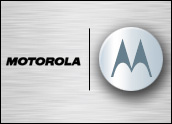 In telephone parlance, any tangible progress Motorola was hoping to make in the fiercely competitive cellular phone business is on hold, as its newest products have failed to connect with consumers.
Shares of Motorola fell nearly 23 percent in midday trading to a five-year low after the Schaumburg, Ill.-based company reported Wednesday a profit plunge of 84 percent. A year earlier, the No. 3 cell phone manufacturer had posted a profit of US$341 million.
The mobile device segment incurred an operating loss of $388 million for the mobile devices segment in the fourth quarter.
Shares were trading at $9.53 midday on the New York Stock Exchange. The stock had opened at $10.03, well under its previous 52-week low of $11.55. Shares had peaked for the year at $19.44 on Feb. 1, and had hit that high mark as recently as Oct. 15.
Motorola sales were $9.65 billion in the fourth quarter. The company posted full-year sales of $36.6 billion in 2007.
It reported sales of 40.9 million mobile phone units at $4.8 billion — down 38 percent from a year earlier.
'Not Good'
"It's not good," said David Stepherson, senior portfolio manager for Hardesty Capital.
"I think the company is fighting huge headwinds in a competitive landscape," he told the E-Commerce Times. "Their products aren't being taken in by the consumers who are buying BlackBerries and iPhones. Those products seem to have grabbed the consumer."
Motorola has been restructuring. The company is operating under new leadership, with Greg Brown having replaced Ed Zander as chief executive officer earlier this month.
The fourth-quarter report reflects Motorola's recent $557 million repurchase of nearly 34 million shares of company stock, bringing the total of shares it has bought back to 385 million, at a cost of $7.7 billion. It is authorized to buy up another $3.8 billion worth of additional shares.
The company also launched nine new phones during the fourth quarter, including its top-of-the-line Razr.
"We are focused on aggressively rationalizing the company's cost structure and working to get mobile devices back on track," said Brown. "The recovery in mobile devices will take longer than expected, and there is a lot more work to be done. Our primary focus is on improving profitability and enhancing our product portfolio in this business."
However, Brown's reassurances have been met with skepticism about the company's short-term fortunes.
"In my opinion, it sets a pretty negative tone for the remainder of 2008," said Jordan Zounis, an analyst with Morningstar.
"They have nothing that can really compete in the high-growth markets like India and China," he told the E-Commerce Times. "It takes a few quarters from designing a phone to having a product ready to go. If you look further, they're going to have a tough time getting a product portfolio out for the holiday selling season."
'Wow Value' Products Needed
Motorola needs to deliver products that have "wow value" to consumers, and it doesn't have any right now, Stepherson said.
"You've got an economic issue that's not gong to go away in six months, and you've got a competitive issue that's not going away," he observed. "They need something that's going to capture the imagination of the consumer, and they don't have that now."
Yet things can change, he allowed. "They had it once but lost it. The competitive environment brought by BlackBerries and iPhones is how business works. It's who has the hottest product."
What's needed are products that can multitask, Stepherson said.
"You look at it from a practicality perspective," he explained. "Consumers are looking for things that handsets can do. The iPhone and BlackBerry are doing that. Motorola products seem to be an also-ran, technologically."
Change Modes
Motorola appears to be in a reactive mode currently, Stepherson said, "and that's not good."
"Then, you're in the mode of conforming your product to being similar to what they (rival products) can do," he pointed out. "That's tough. You're going to maybe get the price-conscious consumer to maybe go to a cheaper phone. But the people in the business world are with the BlackBerries. And they've sold a million iPhones."
What's the solution?
Innovate, Stepherson said. "They need to find a wow concept and incorporate that in their phones. They haven't been able to do that and be first on the market in a while."