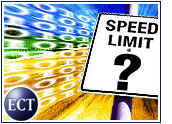 There are a few cardinal rules of e-business sites that have become the goal of every Webmaster: Keep design simple, make navigation easy, and stress the need for speed. With Web architecture becoming more refined and vendors pushing out products that streamline operations, becoming faster has never been easier.
Of course, there is fast, and then there is lightning. Some sites have managed to stay in the top 10 list maintained by Keynote Systems on a regular basis by tweaking hardware, strategy and design. The index measures the average dial-up download time for homepages (Keynote also maintains other indices that measure transaction success rates and other aspects of site performance).
Regulars on the lists include Fidelity, Yahoo, Ask Jeeves, Ameritrade, Eddie Bauer and Landsend.com, among other familiar names in the areas of portal, search, e-shopping, brokerage and travel.
With so many sites using the same kinds of hardware, what makes some sites speedier than others?
Need for Speed
If an e-business site has relevant content, artful design that is easy to navigate and customer appeal, is there really a need to make it as fast as possible?
Yes, says Roopak Patel, product manager at Keynote. He told the E-Commerce Times that Web users are accustomed to quick-loading pages — and if a site is sluggish, they often go elsewhere, even if the site's content is highly relevant to their needs.
"The speed attracts customers," Patel noted. "They appreciate being able to look at pages quickly, and that makes it critical for every e-business."
Testing, Testing
Because Fidelity has to compete with other Keynote regulars like Charles Schwab, TD Waterhouse and Harrisdirect, the company is intent on making sure its hardware and strategies keep its site running fast. Also, because customers expect reliability and stability, Fidelity must be both speedy and dependable at the same time.
Fidelity CTO Bill Thornton told the E-Commerce Times that to accomplish this goal, every component of the company's site is analyzed in terms of how to communicate reliability while still loading quickly. To make sure the site is on track, Fidelity uses frequent testing.
"We've got one of the highest-volume sites in the world," Thornton said, "so everything we do is related to capacity. It's one thing to have a good page performance if you have one customer. It's quite another if you have 11 million and have many customers coming to the site concurrently."
To ensure customers do not have to wait for pages to load, Fidelity does scalability testing on a frequent basis. If a new piece of equipment, software or Web strategy is introduced, the testing process is stepped up even further.
"You have to understand how a product will scale if you want it to be useful," he said. "To do that, you have to be rigorous in terms of testing. At Fidelity, doing a great deal of testing is just part of normal site operations."
Necessary Upgrades
Also, as part of keeping a site lightning quick, it often becomes necessary to think of upgrades as a regular part of e-business, rather than an expense that comes along every quarter or every six months.
Last year, for example, Ask Jeeves transitioned its system to .NET and has seen performance gains as a result. Although the transition marked a major change, the site is often in the process of renovation to ensure its pages load quickly and effortlessly.
"All parts of our system are constantly being looked at," said Michael Ferguson, director of user experience at Ask Jeeves. He told the E-Commerce Times that the site does not just test server load and capacity, but ratherkeeps every piece of hardware and software under surveillance.
This can be a daunting task, but such vigilance means Ask Jeeves keeps its position in the Keynote index. As Ferguson said, "We make sure we can maintain speed as traffic grows, and we look at all our systems with that idea of traffic growth."
One Dance Partner
Another Keynote darling is Eddie Bauer, which consistently lands among the index's top companies in terms of site performance. Brian Walker, project development consultant at the company, told the E-Commerce Times that Eddie Bauer uses a single vendor, Microsoft, for its site. This includes running a SQL 7 server and the latest Windows systems.
Walker noted that Eddie Bauer prefers to stay with a single vendor rather than mix and match among many vendors. That decision keeps costs predictable, allows for single-source support and, most importantly, provides a simple Web architecture.
When other vendors are brought in for smaller hardware needs, Walker's team assesses their attractiveness based not only on how well they might mesh with Microsoft's offerings, but also on how their inclusion could affect customers.
"Everything we do is about customer experience," he said. "Any piece of equipment we look at, any change in architecture, any technology upgrade, is all done with customers in mind first."
He added that hardware or software sometimes has to be changed, even if it makes the site go faster. "If we get better performance, but it hurts usability, we'll change it," Walker said.