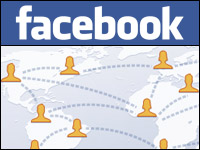 Facebook may be preparing to roll out a "universal Like button" that Web site owners can place on their pages to share content with other members of the social networking site, according to reports in two media outlets Monday.
However, an even more significant rollout may still be in the offing, according to Forrester Research analyst Augie Ray, who said Facebook's recent floating of a trial balloon to allow automatic information sharing with some sites suggests a broader campaign to integrate Facebook throughout the Web is on the way.
Monday's news involves announcements that may be in the offing for Facebook's annual F8 conference in San Francisco. The most significant has to do with a Like button that site owners can embed on their pages allowing Facebook users to tell their friends they like the content on those pages.
Facebook already offers a similar service to some Web sites in its Facebook Connect program. The upcoming changes, if true, would lower the bar for Web site operators and make it easier to participate, Ray said.
Becoming Irreplaceable
In the short term, the results would help Facebook aggregate more data about what its users like on the Web — information that could help the site serve more effectively targeted advertising, Ray told the E-Commerce Times.
However, the real value may come in terms of stitching Facebook's thread throughout the Web and making it much more difficult to replace as the premium social service online, Ray said.
"Facebook needs to find those ways of becoming ever more irreplaceable," he remarked, noting the example of MySpace as a site that seemed unimaginably in control of the Web just a few years ago.
To that end, recent privacy policy changes proposed by Facebook show the company is looking to more tightly integrate itself into the Web, Ray said, by partnering with sites to allow automatic information-sharing about Facebook users, their activities and their friend lists.
Framing the Question
The proposal brought howls of protest from Facebook users and privacy advocates who complained the policy could turn into a nightmare for personal information security.
While the proposal does present some real concerns, the problem is as much one of perception as anything else, Ray said.
When consumers are asked generically if they would be interested in allowing information to be shared with "preselected key partners," as Facebook did, they emphatically say no.
Yet ask if they'd like to be able to visit The New York Times Web site and see which of their friends were there before, what they looked at and what they liked — and consumers are much more inclined to see value in the proposition, Ray said.
Facebook has not yet announced a program based on the automatic-sharing model, nor has it finalized the privacy policy enabling it.
The company did not return a message seeking comment on the proposed changes by deadline for this article.