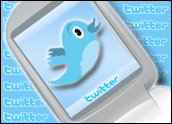 Twitter's No. 1 focus is now on revenue, and the social-networking Web site wants to reassure software developers that they will get a piece of the growing pie.
At Twitter's first-ever conference for developers — the Chirp conference being held in San Franscisco on Wednesday and Thursday — the young company's leaders outlined in further detail the revenue model that was first revealed earlier this week.
Twitter is not referring to its revenue model as "ads." Instead, company executives are classifying them as "promoted tweets," said Brad Harris, who heads Agora Technology, which purchased TweepML.org and UseQwitter.com in February.
"It will allow companies or people using promoted tweets to engage followers while receiving real-time analytics that will be used to judge the effectiveness of a promoted message," Harris, who is at the conference, told the E-Commerce Times.
Defining 'Resonance'
The promoted tweets system being developed by Twitter is called "Resonance," which, as Harris said, "remains a concept that admittedly from Twitter is not yet fully defined." No date for launch was given and Twitter stressed it is still in beta testing.
It will start as a CPM model — frequently used in online advertising to represent cost per thousand.
"When they understand 'Resonance' more thoroughly, they plan to shift to an ROI (return on investment) on a CPM model," Harris explained. If a promoted tweet does not resonate on Twitter then it will be dropped without cost to the promoter.
Since a lot of the details are still being sorted out, the promoted tweet system will only be used by Twitter initially and only used in the Twitter search functions. These initial boundaries are for beta testing, Harris noted, and will be dropped down the road.
Splitting and Growing Revenue
Probably the most exciting news for developers, however, is that once the system is released to the entire Twitter ecosystem, there will be a 50/50 net split on promoted tweets with outside Twitter applications that choose to employ the promoted tweet model, Harris said. Twitter also gave the option to developers to opt out of promoted tweets.
"The 50/50 split is the way that Twitter wants to help the entire ecosystem benefit," Harris said. "They continually said the revenue model is not just about Twitter."
Along with revealing the revenue-splitting model, Twitter announced to the developers that there is a growing number of Twitter users, increasing the amount of revenue to be made by Twitter and developers once the system is up and running.
Twitter now has more than 100 million users, growing by 1,500 percent since launching in 2006. Some other statistics released at the conference: Twitter registers 55 million new tweets a day; it has 600 million search queries a day; and 75 percent of traffic on the site comes from outside Twitter.
While smartphones get a lot of attention, only 30 percent of Twitter users are utilizing a mobile phone to post and read tweets. Also, 60 percent of new accounts are coming from outside the U.S., and there are now more than 100,000 registered Twitter apps.
Introducing New Features
Twitter also revealed a number of new features for developers, including @Anywhere. "It's basically a way for any and all Web sites to incorporate the functionality of Twitter right on their sites," Harris explained. "With just a few lines of JavaScript embedded into your site, it will create a seamless integration with Twitter."
Another new feature unveiled is a central Web site, located at Dev.Twitter.com, for developers to congregate, find answers, and download new programming code.
"This site will greatly improve the development community participation and encourage new and existing users to work with the Twitter platform," Harris said.
Even though a location-sharing feature has been in use on Twitter for a while now, company leaders went over details with developers on how the new feature works.
"Location is hot right now," said Sean McCullough, founder of Ping.fm, which was aquired by app developer Seesmic in January. "Real-time has now become even more real-time by adding relevant location data to user content being published online."
There was some early skepticism about the location-sharing feature regarding security issues. There were concerns that random people online knowing where users were could pose a threat. However, "the aurgument goes stale when users realize they can opt out of these features at any time," McCullough told the E-Commerce Times.
Reassurance and Competition
While there has been criticism of Twitter for not working with software developers, McCullough said the company is doing enough to appease programmers.
"Twitter is a brilliant company that thrives on innovation and smart decisions," McCullough contended. "They seem to consider the resilience of the ecosystem first before making any major business decisions. Twitter has always had a great community for developers."
Even as Twitter is working on assuring developers and focusing on building revenue, other social networks like Facebook and LinkedIn are not sitting idly by.
"This is what keeps the game interesting," McCullough said, referring to the competition. "Twitter has a simple information model. No frills. Keeping it simple will always attract new users. I think Twitter is setting the bar for simple social networking."