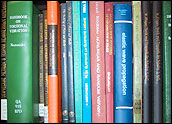 Photographers and illustrators claim that they are not being fairly compensated by Google, alleging the search giant's book-scanning project violates their copyrights.
Seeking what the visual artists assert is their fair share, James J. McGuire, lead counsel for the group, filed a class action copyright infringement suit against Google Wednesday morning in the U.S. District Court for the Southern District of New York.
"Google has been scanning their works with great regularity," McGuire, who is the managing and founding partner of Mishcon de Reya New York, told the E-Commerce Times. "And Google has announced that they want to scan every book in the world."
Class-Action Complaint
It is not illegal to scan photographs or illustrations if the visual artists are properly compensated, McGuire said, but each unauthorized scanning is an infringement.
The class-action lawsuit represents the American Society of Media Photographers, the Graphic Artists Guild, the Picture Archive Council of America, the North American Nature Photography Association, and the Professional Photographers of America.
Among the individuals also named in the suit: photographers Leif Skoogfors, Al Satterwhite, Morton Beebe, and Ed Kashi; and illustrators John Schmelzer and Simmis Taback. Together, the class represents more than 10,000 plantiffs, said McGuire.
"The damages could be quite substantial," he added, declining to discuss a dollar amount.
Google Stays Mum
Google knew about the lawsuit — McGuire called its lawyers on Tuesday before filing it. As of late Wednesday afternoon, McGuire had not yet heard from the company and wasn't sure how it would respond.
"It's up to them," he said. "They'll fight it, negotiate it — or do both at the same time."
Google declined the E-Commerce Times' request for an interview, responding with an emailed statement.
"We are confident that Google Books is fully compliant with international copyright law," said Jake Parillo, a Google spokesperson.
Google's argument is that the company is mounting a historic effort to make all of the content contained within the world's books easily searchable online. Google also insists that the project provides authors and publishers with a new way to be found.
Seat at the Table
Visual artists are aware of the new ways content is being distributed and do not want to bury their heads in the sand, said Eugene Mopsik, executive director of ASMP. "We know Google is here to stay and there is a whole new world of electronic use."
The goal of the lawsuit is to work with Google to determine how photographers and illustrators will be compensated for their work, Mopsik told the E-Commerce Times.
"Our primary interest is being at the table so we can establish a system of how we can deal with this in the future," he said, adding that a secondary interest is in figuring out how to compensate the visual artists for the images that have already been copied.
The ASMP first tried to gain standing in a class action lawsuit writers and publishers launched against Google — that case is now pending. The court denied its request to join the suit.
"We were left with no other options if we wanted to represent the interests of our photographers and illustrators," Mopsik explained. "We had to file our own lawsuit."
Time to Make a Deal
Google has reversed the publishing process by scanning books and making copies available on the Internet, said Frank Scibilia, an intellectual property and entertainment partner at Pryor Cashman.
Usually, publishers work to get the rights to photos or illustrations before reproduction. "Google has turned that process on its head," Scibilia told the E-Commerce Times.
Since the visual artists have filed their own class action infringement lawsuit, they are now in a position to make a deal with Google, he noted.
"If Google doesn't want to make a deal, Google is going to have a problem," said Scibilia. "They will need to either figure out all of the photographs ahead of time or take the risk that the court will find this to be an unfair use," which could cost millions of dollars.
Google, therefore, might decide to settle, he said. "It would seem that Google wouldn't want to litigate when they are in the middle of a class action with publishers."