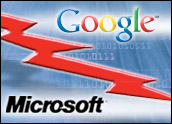 Once again, Microsoft and Google are locking horns in the office apps space, releasing their latest products within days of each other. Google unveiled a more feature-rich Google Docs on April 12, and Microsoft announced that Office 2010 had been released to manufacturing three days later.
Their products' functionalities seem to be inching toward each other crab-wise — the new Google Docs will have improved document formatting and a faster spreadsheet editor, while Office Apps 2010 will offer Web-based versions of the core apps, as well as a free light version of the productivity suite.
Who will win the battle of the office apps? Will Microsoft's name recognition and huge installed base help maintain its dominance, or will Google's no-cost approach win out?
Hugging the Web
Office 2010 takes the productivity suite fight into Google's turf — the Internet. It includes Web-based versions of Microsoft Word, Excel, PowerPoint and OneNote.
Users can store files in the cloud using Windows Live SkyDrive, and move from working with files in Office 2010 Web Apps to working with them on their desktops easily. SkyDrive is online storage ( http://windowslive.com/online/skydrive ) available to Windows Live Messenger and Windows Live HotMail users.
Another Web feature, the Outlook Social Connector, is now available in Outlook 2010. It's a set of features that lets users track updates for their email contacts on social networks such as Facebook and LinkedIn. It also lets users add contacts as friends on social networking sites.
The Office 2010 apps also have other new features. For example, Word 2010 has coauthoring capabilities, unlike older versions of Microsoft Word, which lacked collaborative features. Users have to go through SharePoint Server 2010 to leverage this feature, which means it will be restricted to the corporate environment.
Score one for Google Docs, which has always enabled collaboration on the Web in real time without needing any other equipment.
Excel 2010 has a new feature called "Sparklines" that lets users take large sets of data and present them in a small graphic.
Google Docs Upgrades
Google launched a Google Docs preview of its document and spreadsheet editors, and a new standalone drawings editor.
The new document editor lets users see changes made by collaborators in real time. It also has a sidebar chat feature so collaborators can discuss documents in real time while working on them.
Further, the new document editor has a margin ruler, better numbering, bullets, and easier image placement options. Imported documents now retain their original format, which is an improvement as previously Word documents imported into Google Docs lost their formatting.
Google Docs now supports up to 50 collaborators working on the same documents. Users can also collaborate on flow charts, diagrams and other schematics in real time with Google Docs' new drawings editor.
Google Docs spreadsheets now have a formula editing bar; cell auto-complete; drag-and-drop columns; and other new features.
Processing has been sped up. "Applications that run this fast feel like desktop applications but have the unique advantages of being in the cloud," Dave Girouard, president of Google Enterprise, said on the Google Blog.
Who's Gonna Knock Whom Out?
Despite the improvements, Google will remain the underdog in the office apps space for now. "Google's more of a nuisance at the moment," Rob Enderle, principal analyst at the Enderle Group, told the E-Commerce Times. "It hasn't stepped up to being a real competitor yet."
Google needs to overcome several obstacles in order to pose a serious threat to Redmond in the office apps space, Enderle said. First is coping with Microsoft's user base. "With an entrenched product, all Microsoft has to do is seem to be good enough," Enderle pointed out. "Google has to appear clearly better."
True, Google's got a great cost advantage in that its office apps are free — but even here Microsoft is muscling in, offering Office Starter 2010, a light version of the productivity suite that will come preloaded on new PCs. This will be supported by ads and upgradeable to the full version for a price.
Further, Google faces other issues that undercut its pricing advantage, Enderle said. "First and foremost is the assumption that Google's solution is not secure enough, and that Google will mine the information on its servers," he explained. "True or not, the perception stands as a rather formidable barrier to its success."
Finally, Microsoft seems to be better than Google at the art of war. "The only things that have historically worked to remove an entrenched vendor is to either render the entrenched technology redundant, as Microsoft's Internet Explorer did with Netscape, or to embrace and extend the existing product, as Microsoft Office did to Lotus Notes," Enderle pointed out.
"Only Microsoft, in the technology space, a successfully used both tactics to take out a dominant competitor," Enderle said. "No one has yet successfully used either against Microsoft."