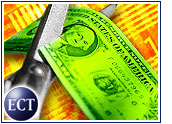 Engage (Nasdaq: ENGA) was trading at US$1.47 early Wednesday, down 48 cents, even after the online advertising and marketing company said results for the second quarter ended in January will bebetter than previously thought.
The company said it expects a loss before extraordinary items "no greaterthan 28 cents per share" for the quarter, with revenue of more than $25million. Analysts, however, reportedly were looking for a loss of 26 centsper share.
"We are pleased to report that Engage will exceed previous revenue guidanceand will meet or exceed our earnings guidance for the second quarter," saidpresident and chief executive officer Tony Nuzzo. "This is an indicationthat our restructuring is starting to pay off."
In January, Engage laid off half of its staff in a bid to cut costs. The company said it would integrate its businesses and operating units into a "single, cohesive organization," with an increased focus on software. The software division has higher grossmargins than the company's other businesses.
The company said the restructuring was designed to save $120 million to $150million a year. Engage also predicted non-cash restructuring charges of $23million to $25 million, with a "cash impact" of $17 million to $20 million.
Engage chairman David Wetherell, who also heads majority owner CMGI (Nasdaq: CMGI),said he is "pleased" with the progress Engage is making and "committed" to supporting Engage in the enterprise marketing software and interactive media markets.
Engage shares are down from a 52-week high of $94.50. The company plans to report results on March 12th.