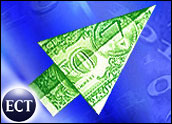 Despite grim marketpredictions about the Web advertising market, online ad impressions in Decemberclimbed 21 percent from November to reach a record high of over 65billion ads viewed, according to a study released Monday by AdRelevance, a Jupiter Media Metrixcompany.
Although online advertisers approached the holiday season with "significant concerns due to the increasingly negative perceptions of the industry," the latest data reveals that online ad impressions are experiencing an "across-the-board increase," according to AdRelevance media research vice president Charlie Buchwalter.
Yahoo! and MSN dominated the Web advertising market, sharing the top two spots for the highest ad revenues and the most ads served.
MSN brought in the most advertising revenue with US$180 million in December, while Yahoo! took the No. 2 revenue spot with $118 million.
Those positions reversed when it came to ads served. Yahoo! served the most with over 7.6 billion ad impressions during the month, while MSN came No. 2 with 6.3 billion ad impressions in December.
More Bucks Per Click
Even though Yahoo! served more ads, MSN won the revenue battle because of differences in the advertising clients of the two firms. The study found that MSN took in an average of $486,000in revenue per advertiser, compared to $105,000 for Yahoo!.
"MSN outpaced the competition by concentrating on the biggest spenders inthe online advertising market and appears to be the winner of the holidayseason among the ad-supported Web sites," said Buchwalter.
Yahoo's second-place finish comes amid reports that the Internet portal is feeling the pressure of ad spending cutbacks by many dot-comcompanies.
In its fourth-quarter earnings report, released earlier this month,Yahoo! met Wall Street estimates but warned that its first quarter and2001 earnings will be hurt by the downturn in Net advertisingsales. Yahoo! shares have plummeted over the past year amid investorfears that the company will find it difficult to diminish its dependence onInternet advertising.
Big Spenders
Meanwhile, according to the AdRelevance study, Amazon.com placed the most ads and spent the most money on Internet advertising. The e-tailer led all advertisers with almost 3 billion ad impressions in December.
Moreover, Amazon outpaced all advertisers in ad spending, dropping $61.8 million in December,more than double the next highest advertising spender. Forty-two percent of Amazon's spending was on MSN.
Ranking a distant second, Barnesandnoble.com spent $23.8 million on Net adsduring December, said the report. Other big spenders were Classmates.com at No. 3 with $19.3 million and First USA at No. 4 with $11.2 million. Auction site eBay was No. 5 with $11.1million spent on online advertising.
The numbers reported in the study reflect spending for all Internet banner and button advertising, excluding house ads and sponsorships.