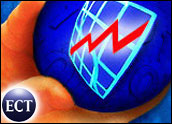 Although the Internet advertising industry has taken a hit in recent months, a reportreleased Thursday finds that online firms should not be so quick to scaleback their Web-based marketing efforts in a bid to trim operating budgets.
According to data from online measurement firm Jupiter Media Metrix, the top 25newcomer Web sites in 2000 were fueled by word-of-mouth and directmarketing, traffic-sharing, sweepstakes and promotions.
"Despite marketplace skepticism, the top newcomers in 2000 are proof that online advertising still works," said Jupiter Research senior analyst Patrick Keane in published reports.
Since the vast majority of these Internet upstarts are pure plays and lackbrand-name backers, Media Metrix said that they often require registrationto amass contact databases for direct marketing purposes and to broadentheir online reach.
"The ongoing challenge these and future newcomers face is converting thesedatabases and traffic into income, especially in a skeptical market withless venture capital and investor patience," Keane said.
List Toppers
Entertainment and gaming site Grab.com was Media Metrix's top newcomer ofthe year, with 13.5 million unique visitors in December. Traffic to the siteincreased by 115.8 percent since its launch in March at 6.2 million uniquevisitors.
Among e-commerce firms, discount online marketplace Half.com was the topgainer on the list, according to post-debut traffic growth. With nearly 800million online ad impressions in 2000, the site is the most advertisednewcomer for the year.
Traffic to the site grew 537.2 percent since itfirst appeared in March, increasing from 1.3 million to 8.2 million uniquevisitors in December, Media Metrix said. Half.com, which is owned by Web auction giant eBay, was the only newcomer on the list that enjoys a big-brand affiliation, the research firm found.
Internet payment firm PayPal.com also racked up impressive numbers, landingin the No. 5 slot on Media Metrix's list. Traffic to the site, which is oneof the fastest growing financial services on the Net, spiked over 224percent since its launch last February, climbing from 1.2 million uniquevisitors to nearly 4 million in December.
Set for a Comeback
Despite grim predictions, a number of recent studies also have indicatedthat the online advertising industry may be poised for a rebound.
A report released last month by Forrester Research said that the current adspending slump is only a temporary pause in the market's overall growth.Moreover, Forrester found that traditional U.S. companies will funnel US$63 billionannually by 2005 to support digital marketing campaigns which integrateonline advertising, promotions and e-mail strategies, compared to the $11billion spent last year.
Forrester's report came on the heels of data released by Jupiter MediaMetrix-owned AdRelevance that showed that online ad impressions in Decemberclimbed 21 percent from the previous month to reach a record high of over 65billion ads viewed.