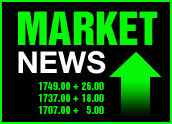 With the latest batch of economic data providing reason for optimism, investors headed into the holiday in a festive mood, with stocks higher across the board today in the last full trading session of the week.
Although the Commerce Department reported that durable goods orders fell last month by 0.4 percent, falling well short of expectations, new home sales were higher by 0.2 percent, beating forecasts that called for a decline. And the Labor Department reported that state jobless claims fell last week by 12,000 to 323,000, the lowest level in three months.
Modest Rally
The data was enough to fuel a modest, low-volume rally on Wall Street. The Dow rose 27.71 points, or 0.26 percent, to 10,520.31. The Nasdaq was the day's best performer on a percentage basis, rising 18.26 points, or 0.88 percent, to close at 2,102.54. The S&P was up as well, tacking on 4.82 points, or 0.41 percent, to 1,181.76.
Markets are closed tomorrow and close early on Friday, when attention will likely turn to retail performance as a gauge of consumer sentiment on what is traditionally one of the busiest shopping days of the year.
Boosting Nasdaq was a spike in Google shares, which gained more than 4 percent after Goldman Sachs weighed in with its first formal report on the stock and set a price target of US$215 per share. The stock closed the session at $174.40.
Dollar Worries Ahead?
Oil prices rose again, but not enough to squelch the stock rally as the prices remained below the $50 level. Crude futures rose 50 cents to $49.44 per barrel on the New York Mercantile Exchange.
Some market watchers say it might simply be a matter of time before investors become more concerned about the weakness of the U.S. dollar against foreign currencies. The dollar continued to trade near record-low levels against the euro today and lost ground against the yen as well.