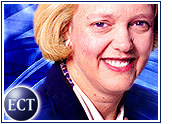 Auction powerhouse EBay (Nasdaq: EBAY) on Monday repeated its goal, set one year ago, of reaching US$3 billion in revenue by 2005, saying growth in all its businesses remains strong.
However, the company disappointed some analysts and investors by predicting that 2002 revenue will total $1.05 billion to $1.1 billion. That figure would result in pro forma earnings (excluding a range of charges) of 70 to 73 cents per share, which would be at or below average estimates as reported by First Call/Thomson Financial.
Investor reaction to the company's presentation was dour. EBay shares fell $4.48 to $52.52 on Monday and an additional $1.40 in early trading Tuesday, meaning that the stock was down 9.8 percent for the week.
ABN Amro reportedly downgraded EBay to hold from add Tuesday morning after Monday's meeting, an annual conference the company holds with investors. However, Deutsche Banc Alex. Brown repeated its buy rating, and Goldman Sachs analyst Anthony Noto reiterated EBay's place on his firm's recommended list.
All's Well?
"The absence of discussion of any impact from the current difficult macro-environment, affirmation of 4Q01 estimates, and very positive management tone are all encouraging," Noto wrote in a research note Tuesday morning.
"They reinforce the importance of how category and geographic expansion can allow a company to continue to grow via increased penetration and offset a buying rate slowdown in existing areas."
Earlier this month, EBay reported third-quarter net income of $18.8 million, or 7 cents per share, on revenue of $194.4 million, topping analyst expectations. The company, which has low fixed costs and a growing business, is alone among major e-tailers in achieving bottom-line profitability.
Growing Long
EBay officials said the market for the company's services is likely to reach $2.8 trillion by 2005, up from about $1.8 trillion currently. They also said that they expect EBay's U.S. business to grow "across all of its categories and trading formats," and that the computer and auto sectors are "rapidly expanding areas."
"The depth, breadth and potential of our business gives us great confidence in the future," EBay president and CEO Meg Whitman said. "The EBay marketplace is thriving across geographies, trading categories, pricing formats, listed items, user growth and the services we offer our community."
Fixed-Price Push
EBay is putting resources into its fixed-price trading businesses, which analysts say are gaining momentum and attracting new customers.
The company said it is preparing to introduce "EBay Express Buys," a fixed-price service that will integrate its Half.com, Buy It Now and EBay stores operations.
Goldman's Noto said EBay is growing twice as fast as e-commerce in general, and will likely increase that rate to three times in 2002.
"We continue to view EBay as the best positioned e-commerce company," he wrote.