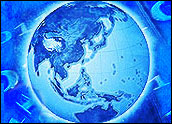 EBay (Nasdaq: EBAY)is making a bid for China's Internet auction businessby purchasing Taiwan-based online auction companyNeoCom Technology for US$9.5 million in cash, plus anadditional payment to be determined when the deal closes.
"It's obviously a move to get a foothold in Asia, andit's just $10 million, which EBay can easily afford,"Morningstar.com analyst David Kathman told theE-Commerce Times.
The NeoCom purchase also serves as a way for EBay to enter the largely untapped Chinese market. "Chinais a huge market, and Taiwan is a stepping stone tomainland China," Kathman said.
International Growth
In an effort to reach its target of $3 billion inrevenue by 2005 and to expand its international reach,EBay has been trying to establish itself inas many markets as possible. The company already has sites in21 countries, including the United States.
According to Kathman, EBay is still growing at a fasterthan 50 percent clip annually, but such growth cannot go on foreverwithout significant international expansion.
EBay's international business accounted for 18 percentof the company's net revenue in the fourth quarter of2001, up from 16 percent in the third quarter.
Made in Taiwan
Taiwan is a particularly lucrative market for theauction giant. "Taiwan would be a pretty good fit forthem because it's fairly affluent. That's good forEBay because those people are more likely to havecomputers and have stuff they want to sell on EBay,"Kathman said.
According to research firm IDC, Taiwan has more than6.5 million Web users, making it the third-largeste-commerce market in Asia and the ninth-largest inthe world. Meanwhile, Neocom has cornered the online auctionmarket in Taiwan, operating both UBid.com.tw andBid.com.tw.
Problems in Asia
EBay has had mixed results in Asia so far. "East Asiahas been a little bit of problem. Japan is one ofthose few markets where they're not Number One,"Kathman said.
According to published reports, EBay plans to withdrawfrom the Japanese market, in which it facesstiff competition from Yahoo! Japan. EBay also hassites in Korea, Singapore, Australia and New Zealand.
EBay said the transaction will not have a significantimpact on 2002 net revenue, although additional operatingexpenses related to the deal are expected to slightly reducethe company's earnings in the second quarter of 2002.
EBay said it now expects earnings of between 31 and 32cents per share in the first half of the year, andbetween 69 and 72 cents per share for the full year.