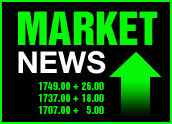 A decline in the trade deficit, fewer unemployment claims and other news helped lift stocks today, though the Blue Chips of the Dow far outperformed the tech-heavy Nasdaq.
The Dow gained 85.50 points, or 0.80 percent, to finish at 10,749.61. The Nasdaq, by comparison, was basically flat, moving higher by just 0.55 points, or 0.03 percent to 2,053.1. The S&P 500 moved higher by 5.02 points, or 0.42 percent, to 1,197.01.
Individual stock performances helped drive the Dow, with insurance giant American International Group rising 5 percent on expectations that the U.S. Senate was poised to pass legislation that would limit insurer liabilities.
Dell Earnings
Tech investors, meanwhile, might have been waiting for Dell's earnings report, which was released after the markets closed. The report appeared to be another strong one, with Dell saying that revenues and cash flow hit record levels, though earnings were offset by a one-time tax charge.
The backdrop for the day, however, was the batch of relatively strong economic news.
The trade deficit number highlighted a better showing for the U.S. economy on the trade gap front in December, as the continued weakness in the dollar drove overseas demand for American goods. The deficit fell nearly 5 percent in December to US$56.4 billion. However, for all of 2004, the deficit hit a record high level of $617.7 billion, a spike attributed to high oil prices for much of the year as well as demand for foreign products.
Job Outlook Boosted
The trade figures were not enough to boost the dollar against the euro, where it lost 0.5 percent on the day. The greenback did manage to rise 0.2 percent against the yen, however.
On the jobs front, new unemployment claims fell 13,000 to 303,000 in the week ended February 5, the Labor Department said. That's the lowest level on a seasonally adjusted basis in four years.
Oil futures ended their period of relative calm, meanwhile, with prices jumping nearly 4 percent, or $1.64, to $47.10 a barrel on the New York Mercantile Exchange.