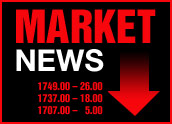 Stock markets slumped back from the holiday weekend today as refreshed concern over the weakness of the U.S. dollar and worries that the holiday shopping season won't pass muster outweighed a plunge in oil prices.
The Dow lost 50.99, or 0.47 percent, to close at 10,776.13. The Nasdaq was lower by 6.40 points, or 0.30 percent, to 2,154.22 and the S&P 500 closed at 1,204.92, a loss on the session of 5.21 points, or 0.43 percent.
Rattling investors was a fourth quarter earnings warning from gadget retailer Sharper Image, which said holiday sales would not measure up to expectations and prompted it to cut its profit estimate for the year.
Buying Mistakes
Sharper Image shares plunged more than 18 percent on the session, but some analysts were still hopeful that retail in general could meet targets for the season.
The problems at Sharper Image were at least partially tied to buying mistakes — some hot items were not in stock at key times — and after-Christmas shopping and gift cards that aren't counted as sales until they are redeemed might still tip the scales in favor of retailers.
Online sales were also reported to be strong. Amazon.com spiked 8.6 percent after it called the 2004 holiday season its "best ever," with the online retailer setting a record of more than 2.8 million units ordered in a single day.
The National Retail Federation reiterated its forecast today that calls for a 4.5 percent gain in total sales for November and December.
Oil Retreats
Oil prices moved lower today as the first cold snap of the winter season retreated and much of the U.S. was forecast to see warmer weather that would lower demand for home heating fuels.
Crude oil futures were down US$2.86 a barrel, or 6.5 percent, to $41.32 per barrel in New York trading. That marked the largest one-day decline in almost a month.
Perhaps the biggest worry, and one most likely to linger into 2005, is the performance of the U.S. dollar.
The greenback plunged to a new all-time low against the euro of $1.36, marking the seventh new low set this month alone against the European currency.
Traders said investors appear to be betting that despite tough talk from both U.S. and European regulators, those on both sides of the Atlantic will take a hands-off approach that will enable the dollar to drop further as U.S. budget deficits grow.