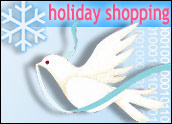 The week of December 13 — the second of this year's two prime weeks of the online holiday shopping season — saw a record US$2.2 billion of purchases, and Monday of that week was the top online shopping day of the year, according to VeriSign's latest e-commerce data.
The total volume of online sales transactions recorded during that week reached 28.3 million, a 25 percent increase as compared to the week of December 15, 2003, the equivalent holiday shopping week from last year.
Monday, December 13, was the peak online shopping day this year, accounting for 5.2 million transactions, representing more than 18 percent of the week's activity, according to VeriSign.
Fast and Steady
VeriSign's data indicates that the two full weeks preceding the holidays — for this year that would be the weeks of December 6 and December 13 — are traditionally the top shopping days during the season. This year, though, more e-tailers are offering guaranteed two-day and three-day shipping for last-minute shoppers, and for that reason, more online shopping closer to the holiday is expected.
During the week of December 13, VeriSign research indicates that online shopping activity maintained a steady pace.
The total spent online from Thanksgiving Day through Sunday, December 19, was $6.8 billion, a $1.2 billion increase in sales as compared to the same period in 2003 (Thursday, November 27, 2003, to Sunday, December 21, 2003). The average sale amount during the time-period from Thanksgiving through this past Sunday was $140, a 10 percent increase as compared to the same period last year.
"There has been no let up in online shopping activity right up until the last shipping day for the holidays," Trevor Healy, VeriSign's vice president of payment services, told the E-Commerce Times. "We thought the week of December 13 might have tapered off a little bit because the hard core shoppers are sometimes done by now while the last minute shoppers make purchases. But it has continued at a steady pace."
Big Ticket, Big Numbers
Electronics online transactions during the week of December 13 increased 12 percent from the equivalent week in 2003 (the week of December 15). The category also carried an average "ticket" price of $293, which was the highest of all categories.
"An average ticket price of $293 shows added confidence in buying larger-ticket items," Healey said. "If you look back a few years ago, we were buying books and CDs and now we are out there spending $300 on a particular item. There had to be a lot of high-value items sold, along with lower-ticket items, to get to that high average."
Al Hurlebaus, director of e-commerce for CompUSA, said, "CompUSA's online store has experienced great sales these past two weeks, especially in electronics."
He explained: "When consumers are spending hundreds of dollars on large-ticket purchases, they become increasingly cautious about the personal account information they are submitting. Therefore, it was critical to the success of our channel to assure customers that the purchases they made online were secure, which we were able to achieve through posting the VeriSign Secured Seal."
Jewelry Hot
Jewelry is another big-ticket winner in the 2004 holiday shopping season, according to Nielsen//NetRatings.
"Jewelry has turned out to be a strong category online, with substantial growth in sales this season, increasing 32 percent year-over-year as a category," Heather Dougherty, senior retail analyst at Nielsen//NetRatings, said. "As the online buying population matures, there is increased confidence and comfort in purchasing non-commoditized goods online, which has provided retailers with the opportunity to sell a wide variety of product categories and price points."
Online apparel transactions during the week increased 45 percent from the equivalent week in 2003, with an average ticket price of $109. Consumers spent the most on women's apparel, which represented the largest portion of this category, accounting for 20 percent of the week's sales and an average ticket price of $138.
Online transactions in the entertainment area (music and video downloads) increased 63 percent from the equivalent week in 2003. Online transactions related to photo printing and sharing during the week increased 130 percent from the equivalent week in 2003. This is the fastest growing of all categories tracked during the holiday season.
Comfort Online
"Content continues to fly off the shelves," Healey said. "The content world is really coming alive now, and people are much more comfortable buying content online."
General retail online transactions during the week increased 22 percent from the equivalent week in 2003. Top segments include kitchen-and-housewares, health-and-beauty and kids'-and-baby accessories, accounting for 18, 9 and 8 percent of the general retail category, respectively.
VeriSign's latest statistics are based on the analysis of online salesvolume processed through VeriSign Payment Services, which comprises more than 35 percent of all North American e-commerce and represents in excess of 120,000 online retailers.