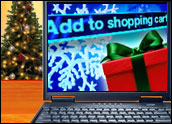 The second week of the prime holiday shopping season accounted for US$2.2 billion of online purchases, with the number of transactions up 21 percent over the same week last year, according to VeriSign's latest e-commerce data.
Monday, December 6, was the peak day of the week, accounting for 5.4 million transactions, surpassing the "Black Monday" results VeriSign collected during the Thanksgiving weekend.
"The fact that December 6 surpassed Black Monday demonstrates strong growth during the holiday shopping season," Trevor Healy, vice president of payment services for VeriSign told the E-Commerce Times. "Week after week it appears to get better."
The two full weeks preceding the holidays are traditionally the top shopping days during the season, according to VeriSign. However, this year, the weeks of December 6 and December 13 are ringing up greater sales.
Overall, VeriSign research indicates that significantly more consumers turned to online sales channels this season. The total volume of transactions recorded during the week of December 6 reached 28.9 million, a 21 percent increase as compared to the week of December 8, 2003, the equivalent holiday shopping week from last year.
Category Comparisons
VeriSign tracks year-over-year merchant activity in key e-commerce categories. Findings this year include the following sales figures from Thanksgiving through December 11, the first full week of December, as compared to the equivalent time period in 2003:
Apparel sales increased 22 percent.
Electronics sales remained relatively flat at a 4 percent increase; however, it carried the highest ticket price of $294 as compared to all the other categories.
Entertainment sales (music and video downloads) increased 30 percent.
Photo printing and sharing sales increased dramatically by 95 percent.
General retail sales increased 13 percent.
"We have seen some winning categories online, including digital photography and music and video downloads," Healy said. "These content categories are clearly leveraging the Internet as a medium for commerce this year, showing substantial growth compared to the holiday season in 2003."
Healy said the content figures were the big surprise for the week. Analysts still expected consumers to purchase music and video products at traditional stores rather than downloading media from a Web site.
Spending Patterns
In other notable data, the total number of purchases from Thanksgiving through Sunday, December 12, was 43.7 million. The total amount spent from Thanksgiving through Sunday, December 12, was $4.6 billion, a 15 percent increase as compared to the same period in 2003 (Thursday, November 27, 2003, to Sunday, December 14, 2003).
The average sale amount was $140 during the time period from Thanksgiving through Sunday, December 12. This represents a $10 increase in the average sale amount as compared to the same time period in 2003.
"Ten dollars may seem relatively small, but when you apply it across the whole Internet, that average dollar increase is quite high," Healy said. "It seems consumers are more comfortable buying larger ticket items."
Healy said he expects the trend to continue up to the last shipping day for Christmas, which varies from e-tailer to e-tailer. His projections show sales dropping off slightly before a post-holiday resurgence for the traditional clearance sales.
VeriSign's latest statistics are based on the analysis of online sales volume processed through VeriSign Payment Services, which comprises more than 35 percent of all North American e-commerce and represents in excess of 120,000 online retailers.