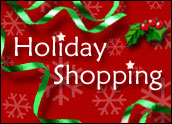 Three holiday shopping indices are reporting a sluggish start to the giving season, with some analysts trimming holiday sales forecasts after a disappointing Thanksgiving weekend in brick and mortar stores.
Meanwhile, online data crunchers are reporting a much different story for e-commerce stores. VeriSign's data demonstrates that online shipping peaked this year the Monday after Thanksgiving, reflecting a new trend in holiday shopping.
Trevor Healey, VeriSign's vice president of payments, told the E-Commerce Times that his studies reveal consumer spending online is diametrically opposed to the offline world.
"In the brick and mortar world, people shop more on the weekends," Healey said. "In the online world, that trend is completely reversed and the two busiest shopping are Mondays and Tuesdays."
A Closer Look
A deeper compare-contrast proves out Healey's research. When examining the offline retail world, much is gleaned from the S&P retail index's 1.5 percent dip in afternoon trading yesterday. That marks a steeper drop than the broader S&P 500 index's 0.13 percent decline.
"Performance at department stores improved while key discount storesencountered difficult selling conditions," said independent researcherJohnson Redbook. "Upscale retailers and teen retailers reported gains for the week."
The International Council of Shopping Centers reported a 1.5 percentweek-over-week dip for the seven-day period ending on November 27, despite the famed "Black Friday." Sales were down 2.4 percent compared to last year.
Finally, ShopperTrak reported strong Black Friday sales marked by a 10.8 percent year-over-year increase, but followed that news with other data that showed total weekend sales were up a mere 2.9 percent.
A Different Story
It's a different story on the World Wide Web. Nielsen//NetRatings reported that online shopping jumped 11 percent in unique shoppers the day after Thanksgiving in 2004 as compared to the same day in 2003.
What's even better news for e-tailers is VeriSign's post-weekend data.According to shopping statistics from the holiday weekend, Monday has now replaced "Black Friday" as the highest volume e-commerce shopping day of the year.
The total purchases made on the Monday after Thanksgiving were in excess of 5.2 million, accounting for approximately US$406 million of online sales volume.
Contributing factors include shoppers taking advantage of higher bandwidth Internet access at work, as well as the ability to window shop at physical stores during the weekend and then seek out better prices online.
"This year the number of purchases made on Monday was 71 percent higher than Friday," Healy said. "Therefore, as e-commerce retailers prepare for the holiday shopping season, it is important for them to evaluate when and how consumers shop online."
Breaking Down the Numbers
VeriSign also reports:
Thanksgiving Day online purchases increased 40 percent in 2004 as compared to 2003. This represents a sales volume of more than $75 million for Thanksgiving Day.
Purchases on Black Friday 2004 grew 31 percent from Black Friday 2003. This growth in online purchases accounted for a sales volume increase of more than $20 million.
Nearly 2 million purchases were made the Saturday after Thanksgiving in 2003. Although not experiencing the same significant year-over-year growth rate as Thanksgiving Day and Black Friday, the number of purchases did increase 8 percent on Saturday 2004, accounting for more than 2 million purchases.
The Sunday following Thanksgiving 2004 pulled in 2.36 million purchases, which was consistent with a similar number for Sunday 2003, which hit 2.37 million in online sales.
The total number of online purchases from Thanksgiving 2004 through the following Monday reached 14.9 million; a 14 percent increase from the same time period in 2003.
"Based on our research, we expect online shopping to continue at a pretty steady rate until the last shopping day before shipping," Healey said. "That's the second biggest day of the holiday shopping season as last minute shoppers flock online for last-minute shopping."