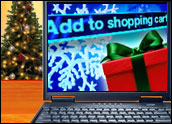 It's that time again: Holiday shopping is here. What's the latest fad for the kids? Where can I find the best selections, prices and product information? And what in the world can I get for Uncle Phil, who has everything and likes very little?
If the questions remain timeless, finding answers has changed radically over the past decade. The Internet has given us a new approach to shopping, forcing fundamental changes in the relationship between customer and merchant.
Ten years ago, the first Internet transaction took place. There's some dispute over if it was a sale of a Sting album by the fledgling NetMarket or a computer-equipment transaction by the Internet Shopping Network. What's certain is that the face of shopping — and marketing — changed forever.
Early Internet shoppers faced considerable challenges, ranging from an absence of security to crashing computers. We've come a long way in a short time. According to Forrester Research, American shoppers will spend about US$144 billion online this year — up 27 percent from last year — much of that generated between Thanksgiving and Christmas.
Online shopping constitutes about 6.6 percent of total retail sales, a number that's expected to almost double by 2010, despite lingering fears about the security of Internet transactions. Outside the U.S., online shoppers will spend about $100 billion this year.
Powerful Synergy
Of equal importance, the synergy between Internet and in-store transactions is powerful. According to the Annenberg Center for the Digital Future, 75 percent of online shoppers get information on the Internet before visiting a store. But the interaction doesn't stop there: Jupiter Research numbers show 43 percent of Internet users buying products in a store after viewing them on the seller's Web site — and an increasing number of shoppers purchase items online but pick them up in a store.
Consumers have redefined the shopping experience from a trip to the store to activities encompassing stores, the Internet, catalogs and phone-order centers. They know what they want, they know what it should cost, and they know how they want to buy it.
Retailers have responded by developing integrated marketing outlets that meet customers' needs rather than sellers' priorities.
Consider REI, the outdoor-enthusiast co-op. REI wanted its 70 retail stores, online sites, and hard-copy catalog to enhance, rather than compete, with one another. The solution: integrated, open-standards-based software linking all of the company's supplier, warehouse and inventory operations with its in-store, online and call-center sales points. Customers can now order an item online and pick it up at a store. They can use in-store kiosks or talk to wireless-equipped salespeople to gather product information, or to see what's available that's not on display. And they can get real-time gift-registry information so they know they're purchasing the perfect item.
Retailing Integration
The results of REI's retailing integration are impressive. The first year saw an $8 million increase in in-store sales, with online ordering and in-store pickup paying for itself in six months. And shoppers are loyal and happy. Over a two-year period, REI found that shoppers who use two buying outlets spend 114 percent more per customer than single-outlet shoppers; triple-outlet customers spend 48 percent more than their dual-outlet counterparts.
For Pacific Sunwear, the teen-clothing retailer, the Internet doesn't provide a big chunk of their sales. However, it's where computer-savvy teens spend time, so upgrading the site and integrating it with the stores and catalogs made a lot of sense. Online brand information and promotions are augmented by fashion articles and tips, celebrity interviews and polls. The look of the site — even the downloadable music played online — echoes the stores, creating a seamless shopping experience.
PacSun's results? Online sales jumped 80 percent last year, and the average online sale is 50 percent higher than a store sale. Equally significant, customers shop the way they please, making it an optimal experience.
And that optimal shopping experience is the real bottom line. Integrated software can match customer expectations by ensuring that products and information are available where and when they are desired. It can provide superior security for online transactions. It can scale up to meet high-volume holiday demand, and it can keep an eye on inventory to ensure that the latest fad isn't out of stock. It can even suggest products based upon criteria provided by the customer.
So, will this new, customer-driven shopping experience help you come up with the perfect gift for Uncle Phil? Well, perhaps some holiday traditions should remain unchanged.
---
Katie Kean
is vice president of WebSphere Commerce and Distribution Sector Development, IBM Software Group.
---