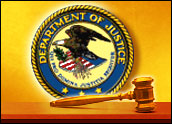 The Department of Justice has asked Yahoo and Microsoft to supply it with more information about its proposed search advertising tie-up that the duo announced earlier this summer. Both companies have said they are cooperating with the inquiry. Indeed, they all but predicted this would happen when their partnership was first announced.
"As expected, we have received a request for additional information from the Department of Justice," Yahoo spokesperson Nina Blackwell said in a statement emailed to the E-Commerce Times.
"The request for more information is consistent with our expectations and as we've indicated previously, we're hopeful the agreement will close in early 2010," she added.
The deal has already been hampered by many twists and turns — and in some cases dead-ends — and there will likely be more to come before it reaches the end zone. There is still the lingering specter of last year's proposed Yahoo-Google search advertising partnership, which dissolved last year following pointed inquiries from the Department of Justice.
Advocates of the Microhoo deal — which, ironically, include many in the search advertising space that would like to see more competition — worry that it too could be derailed.
Routine Investigation
As of now, the Justice investigation can be considered routine.
"I see it as part of the process to make sure that there is no behind-the-scenes tie-up that may prevent advertisers having the option to move away from Microsoft-Yahoo if they choose," said N. Venkat Venkatraman, a business professor at Boston University.
"From a market share point of view, there is less concern if we take today's relative positions. I see this as the Department of Justice doing its job as part of the review process," he told the E-Commerce Times.
"When you look at big names like Microsoft and Yahoo, there will always be some inquiry conducted," noted Stephen Y. Chow, an attorney with Burns & Levinson.
"Because the field of search engine providers is so concentrated," he told the E-Commerce Times, "it's not unusual for the DoJ to look into this further, because it constitutes further concentration by economic measures, even though it may be procompetitive."
Terms and Conditions
The 10-year arrangement gives Microsoft access to Yahoo's content and advertisers. Microsoft will be paying traffic acquisition costs to Yahoo at a rate of 88 percent of search revenue generated from Yahoo's sites for the first five years of the agreement.
There's a clause thatprovides an out for Yahoo if the deal doesn't pay off as the two companies originally expected, according to a Securities and Exchange Commission filing. Yahoo may terminate the search agreement if the "trailing 12-month average of the RPS (revenue per search query) of Yahoo and Microsoft combined queries falls below a specified percentage of Google's estimated RPS measured on a comparable basis or if the combined Yahoo and Microsoft query market share in the United States falls below a specified percentage."
From the beginning, it was assumed that the bigger challenge for the Microsoft-Yahoo collaboration would be the antitrust scrutiny it was bound to undergo, both in the U.S. and Europe. The consensus has been — and still is, for the moment — that the deal will eventually be green-lighted by the Justice Department. That's because even combined, Microsoft and Yahoo are still just a puny adversary for Google, which has an iron grip on the search advertising market.
"Based on the fact that neither company has a significant portion of the search market, it is unlikely that DoJ will [block] this deal," Ryan Radia, an information policy analyst with the Competitive Enterprise Institute, told the E-Commerce Times. "For that to happen it would require legal action, and a court would have to review the decision."
More likely would be the attachment of conditions for DoJ approval, he said. For instance, there is a possibility that Justice might side with privacy advocates who would like to see limitations placed on the type of data that could be collected in a tie-up between the two companies.
Depending on how onerous the requirements are, Radia speculated, the deal could conceivably be less effective for the companies. "In the end, though, I believe the DoJ will conclude that there are no anticompetitive consequences to the deal."