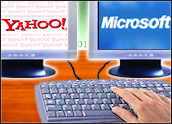 Does Microsoft still have Yahoo in its gun sights?
Listen to Microsoft CEO Steve Ballmer and it might seem so. At an industry event in Orlando, Fla., this week, Ballmer said a deal between Microsoft and the No. 2 Internet search engine would "still make economic sense" for both companies.
Within hours, the software giant issued a terse statement contradicting Ballmer's comments: "Microsoft has no interest in acquiring Yahoo; there are no discussions between the companies."
Ballmer's comments come a few months after Redmond, Wash.-based Microsoft offered Sunnyvale, Calif.-based Yahoo US$33 per share in a hostile takeover bid, which Yahoo rejected. The discussions between the two companies became acrimonious as an internal power struggle ensued at Yahoo, with Microsoft eventually breaking off talks.
In mid-day trading Friday, Yahoo's stock was up 3.35 percent to $13.38 per share, while Microsoft stock was up 2.11 percent to $24.70 per share.
Off the Cuff?
"It's very hard to know what [Ballmer's] intentions were," Colin Gillis, an equity analyst with Canaccord Adams, told the E-Commerce Times. "It's certainly an inflammatory comment that many have taken to read that Microsoft is still interested if Yahoo wants to settle on a reasonable price."
Ballmer might have been better served if he had made direct contact with Yahoo instead of negotiating through the media, Gillis suggested.
"If [Microsoft has] interest in [Yahoo] with the stock down at these levels and three new board members who are amenable to selling, then Microsoft should pick up the phone," he said. "Make a private phone call."
Still Makes Sense
If Microsoft wants to make a move, now would be a good time.
First, the online display advertising business is notably weaker than it was when Microsoft made its first attempt to buy Yahoo. Second, it's becoming ever clearer that Microsoft's assertions that Yahoo is a deteriorating Internet asset are true, Gillis said.
"[Yahoo's] Asian assets are now worth half what they once were," Gillis noted. "A transaction still makes a lot of sense for Microsoft."
Acquiring Yahoo would enable Microsoft to better compete in the online advertising sector with search engine powerhouse Google, which now controls between 60 percent and 70 percent of that market.
Currently, Mountain View, Calif.-based Google and Yahoo are preparing to launch an ad-sharing deal estimated to be worth billions — a deal that could inextricably tie the two Internet companies together for years.
"It's all about the Yahoo-Google ad deal," Gillis said. "There are still a lot of moving parts, and until this deal gets implemented, Microsoft's got to be thinking it will be much more difficult for them to get inroads into this marketplace if the deal goes through. It would be a victory for Google."
If Microsoft and Yahoo can agree on a price, an acquisition would also make sense for Yahoo.
"It's still unclear what price Yahoo's willing to sell at," Gillis said. "Internally, this is a company that is still very much in the midst of trying to turn itself around. There's speculation that large layoffs are coming. You've got an employee base relatively frustrated by shifting bosses and structures. Now, they're trying to reinvent themselves when display advertising is exceptionally weak."