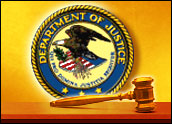 Search engine giants Google and Yahoo are in talks with the U.S. Department of Justice in the hopes of alleviating regulators' antitrust concerns regarding their pending online ad sharing deal.
Reports that the three sides were meeting first surfaced in the Wall Street Journal early Tuesday.
Antitrust issues have been raised by advertising groups including the Association of National Advertisers, based on the fear that an ad-sharing deal between the top two online ad players — Google and Yahoo — would give Google too much control of the Internet ad market.
Yahoo declined to comment, but Google confirmed that talks are taking place.
"We are continuing to have cooperative discussions with the Department of Justice about this arrangement and agreed to a brief delay in implementing the agreement while those discussions continue," said Google spokesperson Adam Kovacevich. "We are confident that the arrangement is beneficial to competition, but we are not going to discuss the details of the process."
No Price Controls
The DoJ may pursue a number of remedies with Google and Yahoo. However, one remedy it probably won't pursue is price controls, said Bruce McDonald, a partner at international antitrust law firm Jones Day.
"First, the DoJ doesn't know what the right price is for online ads," he told the E-Commerce Times. "Markets set the right price, not government regulators. Second, the DoJ isn't in the business of regulating prices. Even if you knew the perfect competitive price today and wanted to maintain that by some sort of decree, you don't know what the price will be tomorrow."
McDonald, a former deputy assistant attorney general, said one possible remedy might be for Google and Yahoo to limit their agreement to just a narrow part of the online advertising market.
On the other hand, the DoJ wouldn't want Google to take one vertical market — such as automobiles — while Yahoo takes another — like computer products. If that were to happen, automobile and computer advertisers would have fewer choices about where they could go to advertise on the Web, McDonald said.
Auction Process Must Stay Blind
In the search advertising business, a blind auction system determines which advertisers get the right to have their Web sites come up when consumers conduct searches using particular keywords.
An overarching concern by the DoJ could be whether the auction process for such keywords would remain blind and immune to undue influence by Google and Yahoo, the dominant search engines.
"The overriding framework issue is, suddenly you'll have the number one and number two coming together, and they will have 80-to-90 percent of the market," Evan Stewart, a senior partner at Zuckerman Spaeder, told the E-Commerce Times. The companies are probably trying to ease regulators concerns over how truly blind the auction process will be, he speculated.
Thus far, Google has said it will run the auctions, claiming that there is no way to fix the bidding process.
Stewart, who has practiced antitrust law for more than 30 years, is skeptical of Google's assertion.
"At Sotheby's and Christie's, we've seen that isn't necessarily true," he said, referring to the notorious price-fixing scandals that hit the two auction houses during the 1990s.
Burden on Google, Yahoo
Ultimately, Google and Yahoo must prove two things to regulators: One, that their proposed deal will somehow benefit advertisers by not increasing prices in the online ad market; and two, that the proposed deal won't harm consumers. However, it's the effect on consumers that's of greater concern to the DoJ.
"The issue is whether this leads to lower prices or higher prices," Stewart said. "Let's say, for example, that Company A finds that the Internet is the most effective way to advertise and pays (US)$1 per hour to do so. As a result of [the Google-Yahoo deal], suddenly Company A could end up paying $3 per hour to advertise. They're not going to eat that cost — they're going to pass that cost on to the consumer."
Yet another challenge Google and Yahoo will face is convincing regulators that they can be both allies and strong competitors.
"They've made the representation that while they're going into joint-venture land on this project, they're going to remain fierce competitors in other markets," Stewart said. "I think antitrust regulators are skeptical of that on its face. It's hard to embrace someone with your right hand while trying to beat their brains out with your left hand. That's not normal human commercial behavior."
DoJ Is Serious
The DoJ is undoubtedly taking the proposed Google-Yahoo deal seriously. The agency proved as much when it hired heralded antitrust attorney Sandy Litvack to review the details of the deal. Litvack is a former antitrust chief who worked at the DoJ during the Carter administration, chiefly on the long-running AT&T antitrust case that began in the 1970s.
"I would suspect that people trying to do this venture will be appropriately aware that they're going to have a seasoned and experienced antitrust litigator reviewing this in Sandy Litvack," Jones Day's McDonald said. "[Litvack's hiring] may have had some impact on bringing out a willingness to be flexible and make concessions."