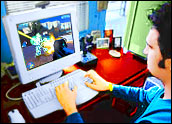 Google is expanding its market-making ad platform to reach online gamers, a 200-million-strong constituency, with the introduction of a beta program,AdSense for Games.
As part of the AdSense platform, it operates much as one would expect: Game producers can display video ads, image ads or text ads within their games to earn revenue. They can control the placement; ads can be displayed in interstitial frames before a game, after a level change, or when a game is over.
Filtering options also give some control over which ads appear in the game.
To be eligible publishers for the beta, publishers must attract a minimum of 500,000 game plays per day, with 80 percent of the traffic from the United States or the United Kingdom.
Mochi Media has partnered with Google to allow its ads to run in games that are played outside the U.S.
Next Incarnation
A number of factors are working in favor of Google's latest beta, Carla Thompson, a researcher with Guidewire Group, told the E-Commerce Times. "Google obviously has a huge partner database of advertisers, so there is great wealth right there to leverage. It makes sense to extend the platform into any medium it possibly can."
There are other advertising platforms that focus on games — Yahoo, for example, offers ad-supported games. "It is not just Google that thinks there is money to be made here," Thompson said.
Still, there's no certainty that this incarnation of AdSense for Games will provide any more than incremental revenue to Google, observed Thompson.
Gamers might not be receptive to advertising, she pointed out, especially those who play games that are not immersive. "Mothers that play Scrabble on Facebook for five minutes, for example, are not likely to pay attention to these ads.
Indeed, some gamers might prove to be downright hostile to ads invading their space, Tom Zawacki, cofounder and CEO of Lemonade, told the E-Commerce Times.
A hard-core gamer "is sitting on the edge of his seat, possibly sweating with the controller in hand. He doesn't want to be interrupted or distracted — and pushing an ad during game would be seen as interrupting," Zawacki said. "So there could be a backlash."
Besides contending with the nuances of the gamer mindset, Google will have to reassure advertisers leery of placing ads for family-friendly products with games that may be intended for adult audiences.
The numbers suggest this will be more of a brand play than a direct marketing play for advertisers. "Click through rates are at best 5 percent for AdSense," noted Zawacki. "That means 95 percent of the people online do not click on the ad."
Advertisers will be dependent on Google's ability to properly align the ad to the content, he said. "Picture Mickey and Minnie Mouse urging people to come visit Disney as people are blown up in the game's foreground."
Compelling Concept
That said, Zawacki is reluctant to dismiss the proposition as a marginal play. "The numbers of gamers are huge, for starters. Also, it has become extremely expensive to produce a game — it can be as much as (US)$3-or-$4 million. So a working ad-supported model could help developers and publishers with revenues."
In truth, there's nothing new about placing ads in games. The practice can be traced back to 1964, when a pinball machine incorporated the Ford Mustang into its background, according to Zawacki.
More recent examples include the customization of "Space Invaders" on behalf of Coke to shoot cans of Pepsi, and the inclusion of ads in Electronic Arts' games in the 1990s, he said.
"So what Google is doing is not new — but it is compelling," Zawacki concluded.