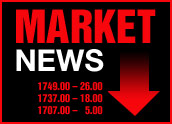 Consumers returned to their spending ways in July, providing a dose of hope that the economy will rev up again after a summer lull.
Consumer spending rose 0.8 percent in July, the Commerce Department said Monday, reversing the 0.2 percent drop seen in June and narrowly beating consensus estimates of a 0.7 percent rise.
The report also said that consumer income rose by just 0.1 percent in the month, short of expectations and down from June levels.
On Wall Street, neither the good news about consumer spending nor a continued drop in oil prices, which fell below $42 Monday — less than two weeks after flirting with the $50 barrier could rally stocks.
Earnings Forecasts
Instead, worries about corporate profits for the third and fourth quarters weighed on the major averages, which all finished in the red for the day.
Several consumer companies issued disappointing earnings forecasts, while tech shares were hit as investors expressed their nervousness about Intel's upcoming mid-quarter update by selling off shares in the sector.
The Dow fell 72.49 points, much of it in the final hour of trading, to close at 10,122.52, while the Nasdaq lost 25.60, or almost 1.4 percent, to finish the session at 1,836.49. The S&P 500 fell 8.62 points to 1,099.15.
Chicken, Chips
Among the companies whose announcements hurt stocks Monday was Tyson Foods, which said that higher grain and feed prices and weaker demand for its products would results in lower earnings for the current quarter.
Tyson shares were off as much as 8 percent.
Also down sharply was Intel, which lost about 2 percent. Intel is due to give its regular mid-quarter update later this week and many analysts believe it will lower its revenue guidance at that time.
Some analysts said the lower markets were simply a reflection of the fact that would-be buyers are not on Wall Street this week.
Many brokerage firms and other New York City-based concerns have reduced staff this week in anticipation of the arrival of thousands of delegates and journalists for the Republican National Convention.
Other investors might simply be playing it safe, since the convention site is on heightened alert as a possible terrorism target.