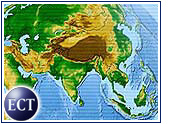 Chinadotcom Corp. (Nasdaq: CHINA) was down19 U.S. cents at $6.38 in early trading Monday following reports that the company expects a weak fourth quarter.
Chief financial officer Daniel Widdicombe reportedly said the Asian Internetportal expects writedowns of at least $70 million against results for the fourth quarterended December 31st, in order to cover the drop in value of investments and the acceleration ofgoodwill amortization.
Widdicombe was also quoted as saying revenue for the quarter ended inDecember would likely be flat compared to the previous quarter.
The company, a Hong Kong-based provider of Internet services andadvertising, reported third-quarter revenue of $36.5 million, up 20 percentfrom the second quarter.
During the same period, however, the company's operating loss widened to $28.5million from $23.1 million, and the net loss grew to $20.5 million from$14.6 million.
The company also said it cut 4 percent of the staff at its Web Connectiondivision in order to cut costs.
When Chinadotcom issued its third-quarter report last November, it warnedthat the fourth quarter might be difficult.
"The Internet in Asia remains atan early stage of its development, and forecasting the future pace of changeremains difficult to approach with certainty," the company said at the time. "We believethat the benefits that Internet technology will bring to businesses andconsumers will continue to drive the development of the Internet in Asia."
Chinadotcom predicted that competition would make it difficult to raiseprices, and that Internet advertising would continue to suffer.
"Going into next year, we anticipate the benefits of a stable operating sizewill allow us the opportunity to reduce a number of operating expenses, suchas premises andcommunications expenses," Chinadotcom said.