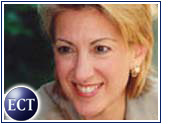 The U.S. House of Representatives voted 237-197 Wednesday to grant China permanent normal trade relations, drawing plaudits from high-tech CEOs, unions and trade organizations.
"The outcome of this vote was critical, not only to U.S. high-tech companies, but also to the economy," said Intel chairman Andrew Grove.
Passage by the Senate is widely expected, and China is due to be granted official entry into the World Trade Organization (WTO) in the coming weeks. The world's most populous country has completed negotiations with the European Union (EU) concerning WTO entry.
Win for High-Tech Workers
Though critics — including unions, human rights organizations and environmental groups — were vocal, the legislation passed easier than many believed.
"I realize this was not a simple or easy decision for many, but I firmly believe that voting yes was the right thing to do, not only for American businesses and workers, but for also for the people of China," Hewlett-Packard CEO Carly Fiorina said.
Some labor leaders believe trade relations will harm American workers, but members of the American Electronics Association (AEA), the largest high-tech trade group in the U.S., are ecstatic.
"This is truly a vote of momentous proportions that will not only benefit high-tech business and workers, but redound to the benefit of the U.S. economy for decades to come," said Richard Goldberg of AEA's New Jersey branch. "The long-term potential should not be understated. Enactment of [the bill] ensures New Jersey businesses and workers will, for the first time, have fair access to the world's biggest market."
New Concessions
The Chinese have made several concessions regarding online investment. Upon entry into the WTO, foreign firms will immediately be allowed 30 percent stakes in Chinese Internet companies in three cities, Beijing, Shanghai and Guangzhou. After two years, foreigners will be allowed 50 percent shares, and the geographic restrictions will be dropped. Also, tariffs on software are expected to be cut up to 30 percent.
Many analysts believe the massive state-owned telecom companies will be forced to improve services and lower rates as smaller domestic companies, backed by foreign investments, improve their infrastructure and services.
Stock Boost
The historic vote boosted China-related U.S. stocks in after hours trading with even normally sluggish high-tech firms gaining ground. Such companies as Chinadotcom, Sina.com and Sohu.com climbed in European trading after the announcement of the vote.
Investors have tended to shy away from Chinese Internet companies, largely because of the communist government's hazy and occasionally harsh policy on regulating Internet companies.
Despite the pitfalls, China and Asia on the whole are widely considered to be a mine of untapped potential. Research firm GartnerGroup (NYSE: IT) predicts that the region's business-to-business (B2B) e-commerce revenue will leap from $9.2 billion (US$) in 1999 to $992 billion by 2004.