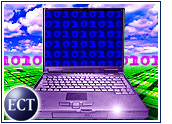 One of the latest trends in notebook computers represents a 180-degree turn from what manufacturers have been trying to do for years, which is to make devices ever smaller.
Now, some laptop makers are betting that bigger notebooks will attract a certain segment of the market. And these new behemoths are also cheaper and faster.
Two new products that exemplify the trend were announced this week. Notebook giant Toshiba unveiled a "desktop replacement" that weighs a whopping 9.6 pounds, and Cybernet Manufacturing unveiled what it calls the "world's first portable desktop PC the size of a laptop."
Basically, the reason for notebooks' recent growth in size and weight is that some established computer makers are following the example of lesser-known manufacturers byputting powerful — but relatively cheap — desktop Pentium 4 processors into mobile computers.
Taking the Heat
Laptops so equipped are faster and cheaper than high-end machines that sport so-called mobile chips, but they are also bulkier and less "mobile." The cheaper desktop chips do not have the low power-consumption technology of Intel's mobile chips, and they need to stay closer to a wired power supply.
"They're 'transportable' as opposed to fully mobile," Aberdeen Group analyst Peter Kastner told the E-Commerce Times. "These are hybrid machines. They are building on the business trend of taking your computer with you as you go from meeting to meeting, as many white-collar nomads do."
Kastner pointed out, however, that he is concerned about the heat generated bythe desktop chips.
"The simple issue is there's not enough space in the laptop form factor to easily remove all the heat generated by the desktop microprocessor," he said. "As a result, it's quite possible the microprocessor will either shut down, if it overheats, or slow down due to automatic lowering of the core voltage."
'Stunning' Display
Toshiba's Satellite 1955-S801 desktop replacement is a "unique portable PC," according to the company, employing a detachable wireless keyboard and wireless mouse. Toshiba also is pushing a "stunning" 16-inch display, one of just a few of that size on the market.
The machine is powered by a 2.0 GHz Pentium 4 and has a 40 GB hard drive and 512 MB of SDRAM. It also has most of the multimedia sophistication of a desktop computer, including Nvidia 3D graphics.
Its lithium-ion battery provides about 2.5 hours of mobile use, according to Toshiba, compared with about an hour longer for more traditional laptops, and costs aboutUS$2,500.
Toshiba, the top notebook seller in the world in the first quarter of 2002, said it designed the machine to be used mostly as a desktop, although it also was built to be moved from room to room and desk to desk, or even taken on the road.
Looks Like a Laptop
Cybernet said its Desk Book Computer is "ideal for anyone on the move who needs the power of a full-sized PC."
As opposed to the Toshiba Satellite, Cybernet's Desk Book looks like a laptop and is similarly sized, but it uses standard desktop components. It is powered by a choice of Pentium 4 chips, ranging from 1.4 GHz to 2.4 GHz.
Forty Percent Faster
"The system is typically 40 percent faster than other mobile types that are currently restricted to slower processors due to form factor, making itthe most powerful desktop replacement in the market," Cybernet said in astatement.
The Desk Book also offers optional hard drives ranging from 10 GB to 40 GB,and DDR RAM from 128 MB to 1 GB.
It has a 15-inch screen, DVD, four USB (universal serial bus) ports, ports for firewall devices, and S-video for connecting to a television. Prices start at $999.
Despite this recent trend toward larger but cheaper laptops, it remains to be seen whether the advantages of "transportability" will outweigh the disadvantages of heft and power requirements — and whether sufficient numbers of consumers will acquiesce to the weight-training regimen they impose.