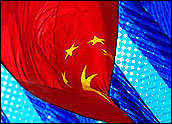 According to a report released Monday by Cheskin Research and Chinadotcom Corporation, e-tailers will need to understand regional differences among the Chinese population in order to gain a foothold in the world's most populous country.
The report, "Greater e-China Insights," examines the online behavior and attitudes of Chinese Internet users in mainland China, Taiwan, Hong Kong, and North America. The study analyzed e-commerce purchase behavior and intent, online trust and privacy, and participation in the overall Internet environment.
"With China's imminent acceptance into the World Trade Organization, a giant barrier to global trade is about to fall. U.S. companies will now have an historic opportunity to participate in the growth and development of China's Internet and telecommunications industry," said Nancy Shimamoto, Marketing Manager of Redwood Shores, California-based Cheskin Research.
Shimamoto added, "Now that the doors are open, the next step will be to thoroughly understand the 17 million current online users in mainland China who are behind these doors. The Chinese are not one homogeneous group, but differ greatly across geographic regions."
Growing Online Population
With 1.3 billion potential e-consumers, it is likely that the Chinese market will have a dramatic effect on world e-commerce.
Internet penetration rates in Greater China are currently low when compared to the U.S., but are growing at a tremendous rate. Citing research by NUA Internet Surveys, the Cheskin report said that Internet penetration is currently only 1.3 percent in mainland China, as compared to 27 percent in Hong Kong and 29 percent in Taiwan.
In the United States, 70 percent of Chinese-Americans are online, according to the survey.
Nearly one-third of the 2,771 mainland Chinese who responded to Cheskin's survey accessed the Internet from an Internet cafe.
Even though many mainland Chinese do not have Internet access at home, consulting firm Deloitte Touche Tohmatsu has reported that Internet penetration rates for mainland China are doubling every six months.
Mainland China also had the highest percentage, 30 percent, of Internet users online for 20 hours or more a month. By comparison, 25 percent of North American Chinese, 24 percent of Hong Kong residents, and 21 percent of Taiwanese were online for 20 hours or more a month.
Buying Online and Off
The report also took an in-depth look at Chinese online shopping trends. The researchers found that in North America, 75 percent of Internet-connected Chinese have bought online. That percentage dropped to 42 percent in Hong Kong, 36 percent in Taiwan, and 32 percent in mainland China.
In the shopper's paradise of Hong Kong, online purchases are more likely to be travel packages and event tickets than physical goods, according to the report.
Because shopping is a social activity in Hong Kong, online shopping venues face a formidable challenge from "the multitude of options available in the real world." The report found that "the convenience, choice, variety and social aspect of shopping in Hong Kong far exceeds what is available online."
Respondents in mainland China, on the other hand, use the Internet to "help better their lives and extend their reach into the outside world." Mainland Chinese respondents were more likely than their counterparts to say that online shopping is more fun than traditional shopping, and were also less likely to complain about having to pay for shipping.
Barriers to Growth
Along with the potential for e-commerce in Greater China comes a host of barriers — not the least of which is the recent announcement of new Internet regulations. The new rules restrict foreign investments into Chinese dot-coms and require Internet companies to maintain detailed records on both Web content and visitors.
Government restrictions aside, Chinese e-commerce is also handicapped by a lack of convenient payment methods. Only 30 percent of mainland Chinese respondents said that they have a credit card, compared with 67 percent in both Hong Kong and Taiwan, and 82 percent in North America.
The most common payment method for online purchases in mainland China is cash-on-delivery (COD). Fifty-eight percent of mainland Chinese and 57 percent of Taiwanese e-shoppers said they had used COD to pay for a purchase. By comparison, only 38 percent of Hong Kong respondents and 9 percent of North American Chinese had paid using COD.
Trust Issues
Respondents to the survey were also distrustful of companies that exist only in cyberspace without a brick-and-mortar counterpart. According to the study, few Chinese would make a purchase from an e-tailer that they had never heard of before.
"Since the Greater Chinese online market is just in its infancy, it's even more critical to pay attention to online trust," said Steve Diller, partner and head of eBusiness and Media Strategy at Cheskin. "As technology penetrates global markets, access to e-commerce won't be the issue, creating loyal relationships through service, authenticity, and trust will be key."