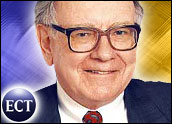 Billionaire investor Warren Buffet is donating the bulk of his formidable personal fortune to charity, and the Reverend Cecil Williams could not be more pleased.
Williams is not a direct recipient of Buffet's largesse; the Sage of Omaha will donate US$31 billion to the Bill and Melinda Gates Foundation and $6.4 billion to charities set up by his wife and children.
Williams does have a connection, however. Glide Church, which provides meals and other services to the homeless and poor in San Francisco, has raffled off a lunch with Buffett on eBay every year for the past four.
Last year, it received $351,000 from the winning bidder.
This year, just two days after Buffett made his announcement, the bidding reached $460,000, said Williams, who is CEO of Glide Church. "I would imagine that Warren's announcement has a lot to do with it," he told the E-Commerce Times.
$1.5 Million and Counting
Buffett made his plans public in a letter posted to the Berkshire Hathaway Web site, committing himself to making annual gifts of Berkshire Hathaway "B" shares throughout his lifetime.
The first year's gift will increase the Bill and Melinda Gates Foundation's annual giving by about $1.5 billion. "In the future, I expect the value of my annual gifts to trend higher in an irregular but eventually substantial manner," he said in the letter.
According to Buffett, ten million B shares of the company will be earmarked for contributions to the foundation. Every year, 5 percent of the balance of the earmarked shares will be contributed either directly to the foundation or to a charitable intermediary.
Little Surprise
It comes as little surprise that Buffet, known for his investing prescience as well as his simple and even frugal lifestyle, is donating $40 billion to charity. His estimated current worth is said to be around $42 billion, and his intention not to pass on the majority of his fortune to his children is well known.
The bulk of his wife's $2.6 billion estate was left to the Buffett Foundation when she passed away in 2004.
"Their generosity is well known," Williams said. "Suzy used to volunteer at Glide; the luncheon auction was Warren's idea and he has always gone out of his way to hold the lunch wherever the winning bidder would like — New York or Omaha or San Francisco."
Beyond Buffett's philanthropy, Williams and other nonprofit supporters are cheered by the multiplier effect that multibillionaires donating their fortunes to charity is expected to trigger.
"Announcements like Warren's put the spotlight on the great need and suffering there is in this world. They also inspire others to give as well," Williams said.