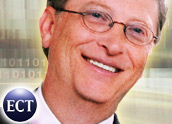 With Bill Gates planning to step back in two years from the software giant he founded, the reality is setting in that the technology world is losing one of its most instantly recognizable and polarizing figures. Observers say the change could be a significant one for both Microsoft and the tech sector as a whole.
Investors have not reacted strongly to the news, possibly because of the two-year time frame, and possibly because the impact could be muted until a successor is identified and it becomes clearer how Microsoft will change without Gates as chairman.
Tip of the Iceberg
While attention has turned to Ray Ozzie, the Lotus Notes inventor who will immediately assume Gates' title of chief software architect, the post-Gates Microsoft could take on a number of different personalities.
Some have already begun to call for the departure to be the impetus for even more sweeping change.
Before he leaves, "Gates should break up the company," said Peter Cohan, a management and investment consultant.
Microsoft's stock has languished — it's down 60 percent since its 1999 peak — in large part because Microsoft can no longer out-innovate rivals such as Google because of an impulse to coordinate new product development across a sprawling business with disparate pieces — Internet advertising, operating systems and applications. "The way to get Microsoft's stock price up is to create autonomous business units that can react quickly to industry changes because they are untethered from creativity-sapping committees."
Microsoft has given no indication it would make such a radical move, however, and with Gates' longtime cohort and CEO Steve Ballmer staying put, at least for now, the slower, incremental change may be far more likely.
The move by Gates — who has said he wants to focus more on his philanthropic foundation, which gives away millions of dollars to a variety of causes — is still seen as risky, however. Gates' technological skills and his leadership style, while called into question, were largely responsible for pushing Microsoft to the top of the tech field in a matter of years. With Google and others vying with Microsoft for software developers and other technical talent, losing such a vaunted figurehead could be costly.
Through the Gates
Those who see Gates' departure as negative point out that the timing of the announcement, coming before the release of Windows Vista — though the platform should be launched before he departs — may be less than ideal.
The software company is losing "a much revered, powerful, and motivating leader within the company," Merrill Lynch analyst Kash Rangan said. Rangan added that the company's recent surge of investments in new products and technologies should put it in a strong position over the long term.
The decision to name Ozzie to the top software post now, meanwhile, is seen as representing a significant shift for Microsoft, as it embraces the Internet. Ozzie has been focused on the Internet with his Groove Networks startup, which Microsoft bought last year.
The emergence of the Web a decade ago also seemed to threaten Microsoft, when the company "reinvented itself so that it could embrace and extend the Internet and capitalize on new market realities," Gartner analyst David Mitchell Smith said.
"This time the challenges are more formidable and come from multiple directions," Smith told the E-Commerce Times. "And Microsoft is larger and has shown less agility in recent years."
Smith said there's little doubt that the Windows Live approach that may be a harbinger of Microsoft's future software strategy is based on Ozzie's vision of how the Web will be used in the future. Other changes will be needed to make Microsoft lean and nimble enough to compete in today's tech sector, he said.
"To remain a leader within the ever-evolving IT industry, Microsoft must make changes within its organization, reward systems and culture, as well as executing on its technology strategy," he added.
In fact, many say that Microsoft has to fight against its own arrival at maturity, which manifests itself in slower growth. Microsoft is among a small number of tech firms that pay investors a dividend, for instance, but more important are changes within the company, where growth has caused a top-down leadership approach that makes innovation more difficult — and may help explain the rash of product delays and other stumbles in recent years.
Steady as She Goes
Yankee Group analyst Laura DiDio said she expects a "protracted, orderly transition" and noted that Gates plans to keep his chairman title, which along with his 10 percent ownership stake will make him a continuing presence.
DiDio noted Gates has indicated that "he has planned his withdrawal with the same precision and prescience that he used to plot his assault on IBM in the late 1970s, and other rivals throughout the 80s and 90s."
Gates has shown he can cede power at the company he founded, DiDio added, giving Ballmer wide latitude since he assumed the CEO role from Gates five years ago. Many of the company's recent strategic moves — some good, some bad — were Ballmer's ideas, she noted.
Forrester Research analyst John Rymer wrote in a research note that Gates won't be easy to replace, even with an icon such as Ozzie waiting in the wings. "It will take a village to replace him," he said.
With or without Gates, Microsoft continues to face the most difficult challenges in its history, IDC analyst John Gantz said. "Microsoft is a very large company with many smart and capable people," he said. "If managed properly, in the long term this could be a pivotal point — one where the company begins the process of proving that it can innovate and deliver in the post-Gates era."