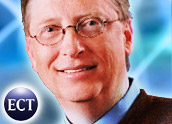 Microsoft Chairman Bill Gates on Thursday announced a major transition for the company he founded. Gates will give up his day-to-day role at Microsoft effective July 2008 to spend more time on his global health and education work at the Bill & Melinda Gates Foundation.
"This was a hard decision for me," Gates said. "I'm very lucky to have two passions that I feel are so important and so challenging. As I prepare for this change, I firmly believe the road ahead for Microsoft is as bright as ever."
Succession Planning
Microsoft announced a two-year transition process to ensure that there is a smooth and orderly transfer of Gates' daily responsibilities, and said that after July 2008 Gates would continue to serve as the company's chairman and an advisor on key development projects.
"Over the past several years, Gates has engaged in a very deliberate process to build top management talent at Microsoft. There are probably very few people in a position like his with a partner as trusted as Steve Ballmer," Nate Bennett, professor at the Georgia Institute of Technology told the E-Commerce Times.
"Gates has absolutely practiced very thoughtfully the steps necessary to bring number twos on board and to develop and support them so that the next generation of company leadership is prepared," Bennett said.
Meet the Successors
Ray Ozzie will immediately assume the title of chief software architect and begin working side by side with Gates on all technical architecture and product oversight responsibilities, to ensure a smooth transition.
Chief Technical Officer Craig Mundie will immediately take the new title of chief research and strategy officer and will work closely with Gates to assume his responsibility for the company's research and incubation efforts; Mundie also will partner with general counsel Brad Smith to guide Microsoft's intellectual property and technology policy efforts.
"Our business and technical leadership has never been stronger, and Microsoft is well-positioned for success in the years ahead. I feel very fortunate to have such great technical leaders like Ray and Craig at the company," Gates said. "I remain fully committed and full time at Microsoft through June 2008 and will be working side by side with Ray and Craig to ensure that a smooth transition occurs."
Rallying the Troops
Microsoft has been steadily expanding its senior leadership in recent years. In January 2000, Gates assumed the role of chief software architect and Ballmer assumed the role of CEO, responsible for all day-to-day operations and company business strategy.
In September 2005 Ballmer organized the company into three divisions under presidents Jim Allchin, Kevin Johnson, Robbie Bach and Jeff Raikes, who were given much greater responsibility for product development and strategy decisions within their respective businesses. In August 2005 the company appointed Kevin Turner as COO.
"Bill and I are confident we've got a great team that can step up to fill his shoes and drive Microsoft innovation forward without missing a beat," Ballmer said. "We will continue to hire the world's best technical talent and give them the tools to do their best work, and we will continue to tackle the biggest challenges and opportunities for our customers by investing for the long term."
Measuring the Impact
Even with the best succession plans in place, many are wondering how Gates loosened control will impact the software giant. Michael Schwartzman, president of ValueSearch Capital Management, sees only negligible impacts, with the probability of mildly positive impact due to bringing fresh views on Microsoft's overall strategy.
"While we categorically do not share such view and consider it infantile behavior, there are many who personify in Gates all ills, mistakes and sometimes poor customer service from Microsoft," Schwartzman told the E-Commerce Times. "Gates stepping down may bring a more adult view that Microsoft is a very large corporation and should be judged as such."