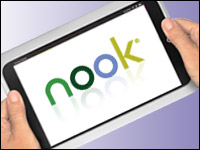 Barnes & Noble investors reacted with pure unadulterated joy to the possibility that Microsoft is considering entering the e-book market and will acquire the company's Nook unit for a whopping US$1 billion. Shares rose by a dizzying 24 percent on Thursday, when the rumor surfaced, courtesy of a report in TechCrunch that cited internal documents. By the close of Friday trading, shares were up another 5.6 percent, at $23.31.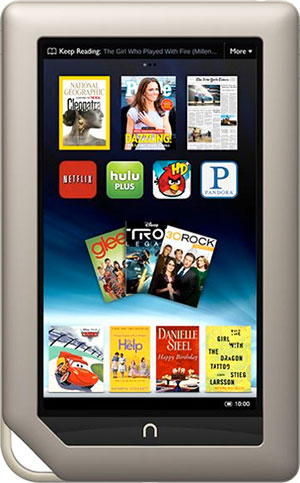 The Nook Tablet
The Nook is viewed as an underfunded underdog in the fight against Amazon's Kindle, and to have Microsoft swoop in to save the day is almost a deus ex machina.
"Microsoft could potentially make it a fair fight," Charles Lewis Sizemore, a Covestor portfolio manager, told the E-Commerce Times.
A Perfect Match
Microsoft has been showing signs of interest for some time: It has already invested US$300 million in the Nook and inked a revenue-sharing agreement for e-books purchased through Windows 8.
The deal would allow B&N to monetize a great asset that is not being fairly valued by the market due to negative perceptions of the old school brick-and-mortar retail model, Sizemore said.
As for Microsoft, it would provide "a new line of business to offset their slower-growing Windows and Office businesses," Sizemore said.
"As Microsoft is aggressively competing in the tablet market, integrating a Nook app into Windows 8 devices could fill a niche that is not currently being filled," he pointed out, "and e-books are a very profitable, high-margin business."
The Xbox has evolved from a video game console into a home entertainment system, Sizemore noted, and adding the Nook to its fold could aid Microsoft's strategy of building its brand in consumer and entertainment products.
It really is a match made in heaven, suggested N. Venkat Venkatraman, a business professor at Boston University.
"Microsoft is trying to explore every possible avenue to create the third mobile ecosystem around the Windows platform in phones and tablets," he told the E-Commerce Times, and "B&N needs to offload the Nook business as part of its restructuring."
One reason B&N shareholders reacted so happily to the possibility of a Microsoft purchase, he added, is that it appears Microsoft is paying a premium to get Nook as it rushes to create a third credible ecosystem.
The Downside
B&N investors should be careful for what they wish for, cautioned David Cadden, a professor in the Entrepreneurship and Strategy Department at Quinnipiac University.
"Although sales in the last quarter were disappointing, the Nook is the single growth vector for Barnes & Noble," he told the E-Commerce Times. "The sale of the Nook brings in $1 billion to Barnes and Noble; however, it's not quite clear what Barnes & Noble could do with that money."
Unfortunately, the big box bookstores may not have much of a future, Cadden continued. "The Nook was one element that drove traffic to such stores."
Further, the Nook might not fare so well in Microsoft's hands, he argued. "Its history with devices, particularly tablet devices, has not been particularly rewarding."
No matter which company owns it, the Nook will have to continue facing down Amazon, Sizemore said, which "is an entrenched competitor and will be hard to unseat."
Perhaps the only related industry that would be untouched by a Nook sale would be the tablet and e-reader market itself.
E-readers are mostly still loss leaders, Sizemore pointed out. "Many readers — myself included — use free reader apps on our smartphones. This is about high-margin e-books and their platforms, not the readers themselves."