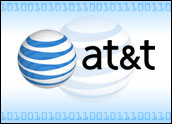 AT&T on Wednesday announced new wireless data plans that let customers choose the price they pay based on how much data they use.
Beginning June 7, two new data plans will be available: the DataPlus option, which supports 200 MB of data, beginning at US$15 per month; and the DataPro plan, which accommodates 2 GB of data, starting at $25 monthly.
Current smartphone customers are not required to switch to the new plans but can choose to do so without a contract extension.
Smartphone users who choose the DataPro plan will also have the option of adding tethering — which lets them use their phone as a broadband connection for other devices — for an additional $20 per month. Tethering for iPhones will be available when Apple releases iPhone OS 4 this summer, according to AT&T.
Assessment Tools
To help consumers assess what kind of data plan they need, AT&T offers a number of tools including an online data calculator.
AT&T customers can also call *DATA# from their wireless phone to check their data usage for the current billing period — they'll receive a free text message with their usage information — or they can go online to see their complete usage history.
Those with iPhones and other select devices, meanwhile, can use the free AT&T myWireless application, available for download in several smartphone app stores.
Currently, 98 percent of AT&T smartphone customers use less than 2 GB of data a month on average, AT&T said; 65 percent use less than 200 MB of data per month, on average.
Drop in Price
With the new wireless data plans, pricing for a smartphone voice and data bundle now starts at $54.99 per month for an individual plan, or $24.99 per month for an additional line on a FamilyTalk plan. That represents a drop of $15 per month from the price of the previous entry-level bundle, AT&T said.
For new iPad customers, the 2 GB plan will replace the existing $29.99 unlimited plan; existing iPad users with the $29.99-per-month unlimited plan can keep that plan or switch to the new $25-per-month option.
Each new plan includes unlimited access at no additional charge to more than 20,000 AT&T WiFi hotspots in the U.S. Customers can also use unlimited WiFi at home, in the office, or wherever else it's available. Current AT&T voice and texting plans remain unchanged.
'A Good Problem'
How warmly consumers respond to the extra $20 charge for tethering remains to be seen; at least one blog has already voiced its protest.
The tiered pricing plan for data, however, doesn't seem to be generating much surprise.
"AT&T's rationale is part based on the explosive usage of the iPhone and part based on the entire industry-wide smartphone explosion," telecom and wireless analyst Jeff Kagan told the E-Commerce Times. "I expect to see Verizon and Sprint join this new path as well."
AT&T has had "a problem — a good problem, but still a problem," Kagan explained. "The iPhone has been so successful, but it has given AT&T a heck of a time managing the wireless data demands of users."
In fact, over the past few years, "ever since the unlimited wireless data plans came about, wireless data is exploding," he added. "This is exactly what they wanted to accomplish."
'A Big Step in the Right Direction'
While the iPhone is heavily used, it is not the only smartphone out there, Kagan pointed out.
On those other smartphones, the experience has not been as "compelling and engaging," Chris Ambrosio, executive director of wireless for Strategy Analytics, told the E-Commerce Times.
As a result, most data plans have been priced "too high to get the mass market to use their phones for anything other than text messages and phone calls," Ambrosio explained.
With the new plans starting at $15 per month, however, "it's a big step in the right direction," he added. "I think they'll have some mass-market consumers willing to consider it."
As that happens, the new plans could even add a bit more traffic, Ambrosio predicted.