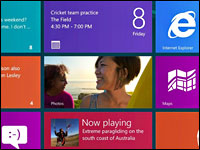 Microsoft on Friday ended retail sales of Windows 8, meaning that the only way the much-maligned operating system will be available from now on is preinstalled by PC vendors.
Windows 7 Home Basic, Home Premium and Ultimate are no longer available at all as of Oct. 31, either for purchase directly by consumers or preinstalled.
Both Windows 7 Professional and Windows 8 remain available preinstalled for the indefinite future.
Windows 8.1 will continue to be available both in retail and preinstalled as Microsoft gears up for next year's release of its next big version: Windows 10.
A Comprehensive Patch
"Who would buy Windows 8 when Windows 8.1 is available and is a much better product?" wondered Al Gillen, program vice president for servers and system software with IDC.
"When a point release is put out, it isn't unusual for them to pull the non-patched copy," explained Rob Enderle, principal analyst with Enderle Group. "Windows 8 as a class will still remain in retail until 10 ships, but in its 8.1 version."
Windows 8.1 was a comprehensive patch, Enderle pointed out.
"Rather than forcing folks to undergo a long download and upgrade process with a new installation, they've just pivoted to the patched version," he told the E-Commerce Times. "They often don't change out the retail version for the patches and patch after install, but that can create problems if the patch is as large as the 8.1 patch is."
A Short Tenure
Still, given the considerably longer tenures of its predecessors, Windows 8's demise is notable for its occurrence just two years after the version's birth in October 2012.
Retail sales on Windows XP, by contrast, didn't end until nearly seven years after that version's arrival in 2001. Even Windows Vista — which itself met with a lukewarm reception — lasted for almost four years before it was pulled from the retail shelves.
Windows 7 remained available as retail software for four years, from 2009 to 2013.
A Weak Contender
By departing from the operating system's classic look and feel, Windows 8 encountered considerable resistance among businesses, in particular, largely because they were reluctant to have to train staff in a new style of interface.
As of October, Windows 8's market share was just 5.88 percent, according to Net Applications.
Windows 7, on the other hand, claimed 53.05 percent; Windows 8.1 accounted for 10.92 percent; and Windows XP — which is no longer even supported — still represented 17.18 percent.
With Windows 10, Microsoft seems to have learned from many of its mistakes. The Start button that was absent in Windows 8, for instance, will be restored.
The fact that Microsoft skipped a version 9 altogether is widely viewed as a sign that it hopes to push Windows 8 into the distant past and start fresh with a brand-new contender.
A 'Singular Failure'
"The decision to halt W8 sales reflects the forward-thinking leadership Microsoft hoped to achieve under Satya Nadella," Charles King, principal analyst with Pund-IT, told the E-Commerce Times.
"It is far easier for an executive with a clean slate to make an objective judgment and move past what, by most any measure, was one of Microsoft's most singular failures," King explained.
"The decision to place W8 firmly in the rear-view mirror suggest that the beta for Windows 10 is going well and meeting expectations," he suggested. "That's all to the good, since its success is critical to the future of Microsoft and its PC vendor partners."