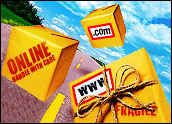 The Federal Trade Commission has updated a longstanding rule governing mail- and phone-based retailers to explicitly include e-commerce vendors as well, meaning that online retailers now must abide by a 30-day shipping requirement or refund customers' payments if they can't.
Since 1975, buyers from mail- and phone-based sellers have been entitled to expect shipment of their orders within any advertised time frame, or 30 days if no specific promise is made, according to the FTC's "Mail or Telephone Order Merchandise Rule" issued that year.
A retailer that couldn't meet that expectation was required to obtain the buyer's consent to a shipping delay or refund payment for the undelivered merchandise.
That rule now has been updated — not only to explicitly include online retailers, but also to recognize modern forms of payment, Jock Chung, an attorney with the FTC, told the E-Commerce Times.
While the old rule covered cash, check, money order and credit card payments, it "left open the question of how to make refunds for debit cards, gift cards and other payment methods," Chung explained. "So we defined some of the requirements for those different payment methods."
The changes will become effective Dec. 8 as part of the newly renamed "Mail, Internet, or Telephone Order Merchandise Rule."
A Different Shopping World
Although the last version of the rule dates back to 1975, the FTC in 2007 sought public comment on how to amend it to reflect changes in technology and commercial practices.
Then, based on a review of the comments received, the FTC in 2011 proposed a series of amendments: the explicit inclusion of orders placed over the Internet; revisions of the means by which refunds were made; incorporation of a wider variety of payment methods; and specific guidelines on the time frames by which refunds must be made.
The commission late last year recommended that the proposed amendments be approved; late last week, it voted 5-0 to adopt them officially.
Not covered by the rule are magazine subscriptions, sales of seeds and growing plants, C.O.D. orders, and services such as mail-order photo-finishing.
'We Could Take Them to Court'
Though the rule itself doesn't spell out specific penalties for retailers that don't comply, it does fall under the Federal Trade Commission Act, Chung noted.
In other words, "we could take them to district court and sue them for violating the rule," he explained. "We'd then make an argument as to what the proper penalties would be, considering the profits to the company and the harm to the consumer."
Merchants in violation could be sued by the FTC for injunctive relief, monetary civil penalties of up to US$16,000 per violation and consumer redress.
'A Win-Win Regulation'
Akin in many ways to truth in lending, "this is truth in shipping," customer service expert and authorShep Hyken told the E-Commerce Times.
"I really like that they enforce this — it's very good for the consumer," Hyken explained. "At the same time, it's not a hardship on the shipper."
With reasonable deadlines and clear expectations, the guidelines in general are "very customer-friendly rules," he asserted. "I believe that any company that cares about its customers wouldn't disagree with any of that. It's a win-win regulation."
Overall, "it's very black and white," Hyken said. In the event of a violation, "it's very clear who will win and who will lose. Does any company really want to go through the aggravation of litigation as a result of this?"