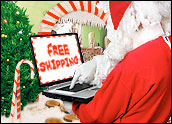 Move over Black Friday and Cyber Monday, and make room for yet another retail-inspired shopping event. Free Shipping Day is here — or rather, it will be here on Thursday, Dec. 18 — the last day someone can order a gift online and have it guaranteed to arrive on Christmas Eve with free shipping.
Free Shipping Day is the brainchild of Luke Knowles, who hatched the idea just a few weeks ago. There are now 250 retailers participating in the campaign.
Knowles seized upon the idea when he realized that online holiday shopping peaks weeks before offline shopping because people are afraid their gifts will not arrive in time.
Last year, for example, the online shopping season peaked on December 10, with US$881 million in sales, he pointed out. However, shoppers at brick-and-mortar stores continued to spend heavily during the weeks before and after Christmas.
Big Money
Free shipping has proven to be a reliable inducement for online shopping. Shortly after Thanksgiving, Knowles floated the idea of highlighting it with a special "last day" promotion and was amazed at the reception it received.
"Judging by the interest and excitement, I think this could be as big as Cyber Monday in a few years," he told the E-Commerce Times.
If the reaction of Lisa Christopher, a public relations account manager in Winchester, Calif., is any indication, he may be right.
"I only shop where and when I can get free shipping," Christopher told the E-Commerce Times. "Disney online for example, will offer free shipping if you spend a certain amount of money. I always make sure I hit that minimum; I'd rather get something for my money than not. This holiday season, I haven't paid for shipping, and 95 percent of my gifts have been purchased online."
Within a few years, Free Shipping Day will become so popular that it will increase online holiday sales by hundreds of millions of dollars, Knowles predicted.
Something for Free
There is little doubt that free shipping does help to increase sales, Tony Hsieh, CEO of Zappos, told the E-Commerce Times. Offering free shipping for both purchases and exchanges, he added, "really helps to drive sales and customer loyalty."
Free shipping is even more important this year because of the economy, Carolyn Groobey, vice president of consumer marketing at Bill Me Later, told the E-Commerce Times. "Our recent research with Ipsos Insight determined that holiday deals are proving more popular than ever. One third of survey respondents say that they will only buy items for which they can find holiday deals."
Indeed, even for products that would cost very little to ship, such as jewelry, the inducement is important. "In this economy, people are trying to save a penny any way they can — and free shipping day gives them that opportunity," Yomesh Shah, President of B2CJewels.com, told the E-Commerce Times.
Who's Participating
Bloomingdale's, JC Penney, Kohl's, Macy's, Nordstrom, Sears, Circuit City, Crate & Barrel, Eddie Bauer, Kmart, Sears, Sur La Table, Target and Zappos are among the retailers participating in Free Shipping Day.
This year, the event was put together hastily. Next year, however, Knowles will begin planning far in advance and will consult more with participating retailers to determine what is the latest possible shipping day.
Free Shipping Day 2009 will be selected in January, he said. It will likely fall around the same time as this year, give or take a day.