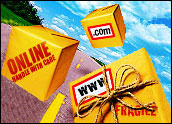 Online shoppers looking to save a few bucks have plenty of options this holiday season. Those looking to save on shipping costs in particular might find themselves at FreeShipping.org, a new Web site that lists free shipping deals for hundreds of retailers.
"We noticed how many retailers were offering free shipping, and that shoppers were wanting it," Luke Knowles, cofounder of the company, which is based in Fort Collins, Colo., told the E-Commerce Times. "There wasn't a Web site out there collecting that information."
Knowles, 31, and his wife, Maisie, 26, launched the site from their home office in December 2007, and since then it has grown steadily. In October, the site generated US$1.5 million for the retailers listed on the site, and it had 200,000 unique visitors.
Homing In
In addition to Luke and Maisie, the business has one other employee and several contractors. The Knowles family juggles home and work with this business, raising their 9-month-old daughter at the same time as they run the company and a Web design firm called "Kinoli." Because they'd already been working in the Web field, they had the experience they needed to make FreeShipping.org work.
"We had all the tools in place to do this," Knowles said.
The business itself didn't cost that much to start. The biggest cost, Knowles said, was the $1,300 that they shelled out for the domain name. They like the fact that they can work at home.
"Our starting costs were very low," Knowles said. "And I like working from home. I wouldn't have it any other way. I don't have to drive to work."
The company, which despite its ".org" designation is in fact a for-profit company, makes its profits through 2 to 3 percent commissions that retailers pay it for purchases consumers make by linking to their businesses through FreeShipping.org.
A few other sites have begun to offer services similar to FreeShipping.org, such as DailyeDeals.com, but Knowles sees his site as more advanced and developed than these. The main competition, he said, comes from online coupon sites, such as FatWallet.com. And while the main purpose of FreeShipping.org will remain listing free shipping offers, Knowles said that it is starting to offer some coupons and other deals in conjunction with its retail partners' marketing plans. Some of these are on the FreeShipping.org site itself, and some are on pages of the businesses that consumers link to from the site.
"Just about everyone has had the bad experience of putting things in their shopping cart and then going to check out and being hit by a big shipping charge," Knowles said. "This has made the site catch on pretty quick. It's growing quite a bit."
Crunching the Numbers
High gas prices have driven consumers to online shopping in record numbers, Knowles said. The sagging economy has not affected his business at all, suggesting that people are still shopping online despite — or perhaps because of — economic woes, he added.
"We haven't noticed people shopping less," Knowles said. "If anything, we've noticed them shopping more."
Overall, he said, online shopping is up 10 percent this year — a statistic which has helped his business to do well. And the demand for free shipping offers has not been flagging, either.
"A lot of consumers are looking for free shipping offers," Jonathan Cagle, the owner of Odessa, Fla.-based OhToy.com which has a listing on FreeShipping.org, told the E-Commerce Times. "It's a critical part of their buying decision, and FreeShipping.org is a central place to get many different offers."
The company gets its offers in two ways: from companies that approach them asking to be listed, and from scouring the Web for offers already out there.
"We're always looking online and offline," Knowles said. "They're all over the place."
Right now, the company has 850 retailers listed on its site, and Knowles hopes to bring that number up to 1,000 by the end of the year and 1,500 sometime next year.
He's also noticed an increase in free shipping offers from online retailers eager to increase their business. Some retailers have even created free shipping promotions and offers just to be listed on FreeShipping.org.
"Some retailers that don't offer free shipping have given us free shipping codes just so they can be listed on our Web site," Knowles said. "They're realizing how effective they are in getting people to buy."