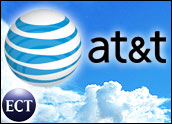 AT&T wireless subscribers will soon be able to download music over the air from Napster, the telecom company announced Monday.
The new service, which will begin in mid-November, will allow AT&T customers to select from more than 5 million full-track songs, representing all major recording labels, available from Napster. The service complements AT&T's eMusic offering, announced in July, which features a catalog of roughly 2.7 million titles from independent artists.
Songs will be available individually for US$1.99 each, or in groups of five via the $7.49 Napster Mobile Five Track Pack option.
iPhones Locked Out
Music through the service will be protected by digital rights management (DRM) technology, Michael Coe, an AT&T spokesperson, told E-Commerce Times. AT&T will announce which devices it will be available on when it launches next month, but the iPhone will not be among them, he said.
"AT&T is the nationwide leader in mobile music and offers the largest catalog of songs, the most digital music choices and the best user experience in the industry," said Mark Collins, vice president of consumer data for AT&T's wireless unit.
"We are pleased to expand our relationship with Napster, an innovator in the digital music revolution, to connect our customers to more of the music they want in the moment that they want it," Collins added. "This relationship reinforces AT&T's leadership in providing the industry's largest mobile music platform."
First Five Free
Customers will be able to preview 30-second samples of each song before buying, and ordering will take less than a minute, the company said. Napster Mobile will also feature joint delivery, with one copy of a song going to the user's handset, while another is available for download to the user's PC at no additional charge. As a special offer, customers who select the Napster Mobile Five-Track Pack from their phone will receive the first five songs free.
Competing wireless providers such as Sprint and Verizon also offer over-the-air music services with mainstream selections.
"We are pleased to be partnering with AT&T to provide its more than 63 million wireless customers with the best digital music offering available," said Brad Duea, president of Napster.
"Together, Napster and AT&T will deliver 5 million songs to customers' handsets, along with the best discovery tools and download capabilities to the palms of customers' hands," Duea added. "We are equally excited to further extend our partnership with Ericsson for Napster Mobile which is based on Ericsson's Service Delivery Platform, SDP Media, tailored for media delivery."
'Late in the Game'
AT&T will kick off its new Napster Mobile music download service with content from the band Matchbox Twenty and its new album, "Exile on Mainstream." This offer will include exclusive content from live concert performances; corresponding live tracks on Napster Mobile; and special ringtone features, AT&T said.
"I think this is an incremental step in the right direction, but it's pretty late in the game," Phil Leigh, senior analyst with Inside Digital Media, told E-Commerce Times.
"This should have been done a couple of years ago to compete more effectively," he added. "Now it's so late it may not be very successful — too many people have already come to rely on the iPod as their music device."
Different DRMs
There are both technical and strategic reasons why AT&T's Napster music won't be available on the iPhone, Lewis Ward, research manager for wireless communications research with IDC, told the E-Commerce Times.
First, on the technical side, the music will use a different type of DRM protection, he said. Second are business-model considerations, he noted.
"Napster has its own brand, relationships with labels, and so on," Ward explained. "It wouldn't have a big incentive to offer its tracks through Apple."
eMusic is the same way, and doesn't overlap with Apple's iTunes, he added.
AT&T's service will also likely reach a different demographic than the iPod and iPhone, Ward said.
While hard-core audiophiles are willing to invest hundreds of dollars in equipment and service, "I think this offers simple, immediate gratification over the air," he explained. "People who are less technically inclined might find this nice, as well as a slightly older demographic that doesn't want to invest hundreds in a digital music player."
Still Early
IDC's forecasts indicate that mobile music has not yet penetrated the market very far, and will not reach the mainstream for some time yet, Ward added.
"It's still an early stage of the market," he concluded.
In addition to announcing its Napster service, AT&T on Monday also announced two new music applications: MobiVJ, a streaming video service, and VIP Access, a mobile fan club and discovery service.
MobiVJ is available now by pressing the Music Note key and selecting Shop Applications on the company's portfolio of music phones; VIP Access will be available in early November. MobiVJ costs $6.99 a month, while VIP Access will be $2.99 per month.