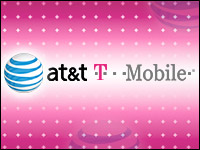 AT&T plans to continue with its plan to acquire T-Mobile, Chief Financial Officer John Stephens told reporters, in spite of strong disapproval from regulatory organizations including the Department of Justice and the Federal Communications Commission.
AT&T plans to use the US$10 billion cash accumulated on its balance sheet to prepare for quick closure of deal, Stephens reportedly said at the UBS media conference Wednesday in New York.
AT&T is the second largest wireless carrier in the United States, and T-Mobile, owned by Deutsche Telekom, is the fourth largest.
The FCC and DoJ oppose the deal on grounds it would hurt competition. In August, the DoJ sued to block the merger; the case is set for trial in February.
As for how the company intends to deal with the antitrust objections, Stephens offered no explanation and said further that the company's talks with the DoJ would not be made available to the public.
February Face-off
For the moment, the battle between AT&T and the FCC is in limbo. The next confrontation will be between AT&T and the Justice Department. Unless AT&T comes up with an acceptable compromise in January, it will meet DoJ in court.
"Going forward, the Department of Justice process is now AT&T's highest priority," Sue Rudd, director of service provider analysis at Strategy Analytics, told the E-Commerce Times. "Spectrum deals may be what it takes to get the merger done."
Exhibits, pretrial briefs and responses must be filed by early February 2012, Rudd noted.
"The case is on track for accelerated hearings after that," she said. "This compressed timeframe makes it imperative for AT&T to immediately incorporate the impact of recent structural changes in the competitive landscape."
AT&T will need to make some specific arguments to the DoJ to reach a settlement that would allow the merger to go through, Rudd said.
"AT&T may wish to argue to DoJ that there are three strong competitors who will be bringing broadband mobile services to smaller rural areas," she suggested.
Another argument AT&T could make is that you don't have to be a large player to be a competitor.
"AT&T can argue that in an All-IP mobile broadband world, even the smallest regional competitor with roaming agreements can offer the same range of virtual services as a large national player," noted Rudd.
Buying Customers and Spectrum
AT&T is going to plenty of trouble to acquire T-Mobile. Fighting an uphill battle with the DoJ and the FCC will be no picnic — the company clearly must expect to be finely rewarded for its efforts.
"The benefit to AT&T is spectrum and customers," Allen Nogee, principal analyst for wireless technology at In-Stat, told the E-Commerce Times. "Both of those can be pretty hard to come by now."
Almost everyone who wants a mobile phone now has one, Nogee pointed out. That means real growth may require the purchase of existing customers — from a company such as T-Mobile.
"To gain customers, you have to grab them from someone else," he said. "An easy way to do that is to buy them. It can be much more work to take them customer by customer."