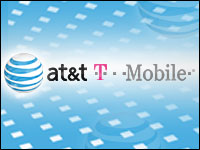 AT&T threw in the towel on its planned US$39 billion T-Mobile merger over the holiday weekend. On Thursday, it posted a blog entry saying the deal was off. The announcement came two days after Federal Communications Commission Chairman Julius Genachowski said he would oppose the deal. This is the first time the FCC has moved to block a deal since 2002. The Department of Justice also filed a suit to block it in August.
In the Thursday announcement, AT&T also stated it would take a $4 billion charge in the 4th quarter to reflect the potential breakup fees due to Deutsche Telekom, T-Mobile's owner.
Yet AT&T may peel off a chuck of T-Mobile assets in a manner that is less disturbing to the feds. The blog noted that AT&T will pursue wireless asset sales with Deutsche Telekom.
In an odd twist on the noisy turns in this saga, AT&T responded in a Nov. 25 blog post to reports that the "FCC must approve this withdrawal."
Apparently those reports pushed AT&T's buttons. While it didn't identify their origin, the company gave a testy response, noting that "we have every right to withdraw our merger from the FCC, and the FCC has no right to stop us."
The Hen Outsmarts the Fox
AT&T's tactical switch may allow it to slip past the FCC's regulatory jurisdiction.
"If other competitors buy portions of T-Mobile's assets in different markets, then AT&T may not be violating any antitrust laws, as the FCC and DoJ allege," Peter S. Vogel, partner in Gardere Wynne Sewell, told the E-Commerce Times. "Based on the plan that AT&T is offering now, AT&T will only purchase 40 percent of T-Mobile's assets, and other major players will acquire the remainder."
Under these circumstances, the FCC "really can't complain about antitrust monopoly control by AT&T," Vogel said.
Another avenue AT&T could take would be to prove its case in court. The problem with that approach is that the process could mire the two companies in a long-term legal back and forth.
"AT&T could litigate the purchase of T-Mobile, which will be expensive, time-consuming, and unpredictable," said Vogel. "This asset purchase may be just the solution to allow AT&T to move ahead more quickly."
A Weak Tactic?
While an assets sale may move the merger off the FCC's radar, it also may weaken the logic of the original deal. In the end, AT&T could miss the real benefits of a full acquisition.
"If they trim down the size of the assets enough, then that would probably help it go through — but if they go down that path, they'll naturally have the problem that synergies will decrease as well," Aapo Markkanen, senior analyst for consumer mobility at ABI Research (UK), told the E-Commerce Times.
"Besides, forced asset sales tend to favor buyers quite a bit," Markkanen noted.
"I think AT&T wants scale with this merger," said N. Venkat Venkatraman, a management professor and antitrust expert at the Boston University School of Management.
"Scale allows them to justify the investments they need to guarantee coverage as they migrate to LTE," he told the E-Commerce Times. "Verizon has the scale, and AT&T without T-Mobile is weaker."
The FCC sees this merger as creating a two-horse race in mobile service, said Venkatraman, noting that the FCC has discounted Sprint's ability to be a credible third competitor.
"I think selling some assets could be acceptable to FCC if and only if the FCC believes that those assets — either alone or in combination with Sprint — could create a credible third national competitor. That is a big IF," he suggested.
"It is confusing to me that FCC has taken this long to decide on this announcement," Venkatraman noted. "I am not sure that the way forward is easy for this merger."